Calling and texting have been the most typical features of mobile devices since the beginning. Just a few years back, we used to type contact names, messages and web URLs on hard keypads. That method of text input was really annoying as we had to press a key several times to get the desired alphabet or number, but we were used to it. With the advent of touchscreen devices, the hard keys were replace by virtual keypads that just required tapping. The new thing was less painful indeed! Later, we were introduced to the Swype input method requiring dragging you finger tip over the QWERTY keypad buttons.
Due to smartphones' screen width, we get very small buttons in QWERTY mode and it often results in blunders while typing test on phones. With that being the reality, the word prediction and Swype techniques have really revolutionized the way we type on phones. I do not say that it is as easy and fast as we experience on a computer's keyboard but it is still better that any input method available today.
Even Swyping does not eliminate the chances of mistake that might bring hilarious situations and put us in catastrophic state. If you just look for keyboard input apps at the Play Store, you can get hundreds of apps, free and paid both. Personally, I like SwiftKey Keyboard most. However, since I came across another input alternative app, I feel that my liking has shifted to it.
The new TouchPal X  app is probably the best keyboard input solution for Android I have seen so far. My verdict is based on the comparisons among some of the most known keyboard apps. I have been using it for 2 days now and it feels really exciting when it comes to typing experience. It ensures correct typing with lot more faster speed than you might be used with normal keyboard. The app uses Curve input method that uses refined gesture dragging paradigm as Swype but adds better flow to it and makes typing intuitive.
Then, there is another text input method called Wave – Sentence gesture that employs a smarter form of word prediction as you start typing. When you see your desired word's prediction, you just have to slide down to the word to confirm. You do not need to switch between Curve and Wave methods because you can do it by bringing a change in your gesture— drag across the letters to write in Curve mode, or start typing the desired words to use the Wave mode. Isn't it simple?
Besides, TouchPal X Keyboard also has One-handed layout for easy typing for those who are not comfortable with QWERTY input. The app features some more amazing things as well. It supports themes which can be downloaded from the Themes option. It features quick access to symbols and Emoji emoticons through gestures. It supports about 70 most spoken languages. The T+ Dual letter input can prove convenient to many as it brings bigger letter buttons for easier typing.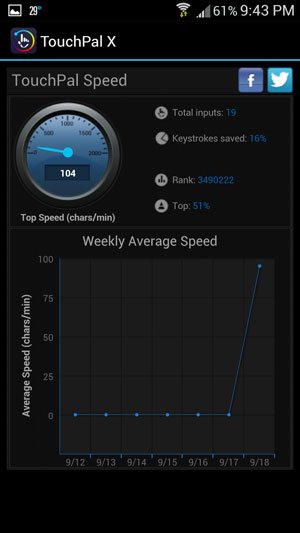 The app also comes with TouchPal speed meter that shows you the statistics for all your typing adventures and achievements with this beautiful keyboard input app. We recommend you must try it! Download the free app from the Google Play store and start TouchPalling now!