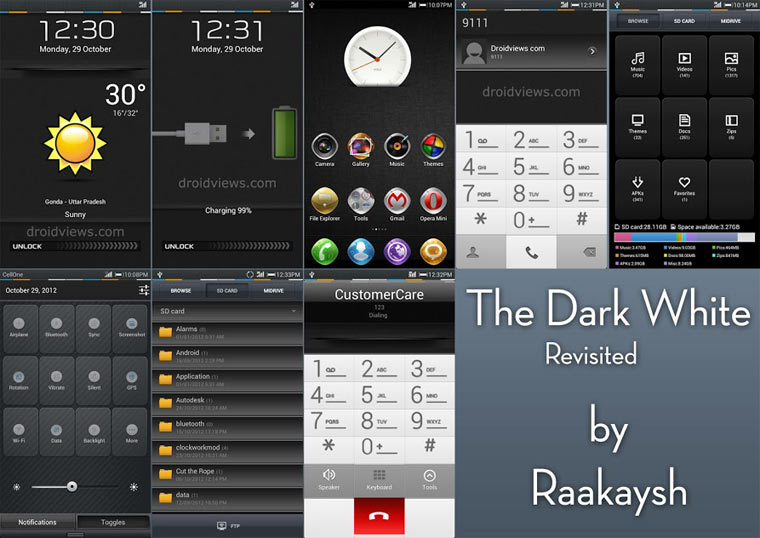 Here is my third theme for MIUI V4. Since it is a theme with white and gray highlights over a dark/black background, I simply call it "The Dark White" theme, mimicking the title of my previous theme "The Dark Knight". It is a heavily worked theme that took about 7 days of constant toil to complete (did not even post a single item on my site). Anyways, the theme is complete now and being released as a beta version because it does have a few minor bugs that will be fixed with due course of time as MIUI ICS ROMs come to support themes completely. Download The Dark White Revisited theme for MIUI below.
I received a few requests to make a dark-white version of The Dark Knight Returns. So I started working on a new theme instead of releasing another color variant of an existing one. The Dark White theme for MIUI V4 comes with beautiful icons made by iKun, and an amazing lockscreen theme (made by myself) that shows weather, call, message info in a simple but animated way. Besides, I have also added a modified version of the official white analog clock that looks great.
How to Apply:
If you have been using MIUI ROMs for some time, treat this theme just as you do with other ones. But if you are new to MIUI, Follow the steps given below:
Download The Dark White Revisited theme mtz" and copy it to the MIUI/ Theme folder on your device's internal SD Card. Come back to the Theme Manager app, select the theme and apply it.
For weather data to appear on the lockscreen, you will have to install "9s Weather (Advance)" on your device.
If you like my themes and want to appreciate my hard work, please buy me a coffee via PayPal:
With Regards to all MIUI Community!
Raakaysh
Changelog: Dark White Revisited Theme v1.3
The whole theme has been overhauled
Modifications in the lockscreen. Added a Fahrenheit version.
Fonts visibility bug in some apps and inside the theme fixed.
Optimized to work with the latest MIUI ROM version 2.10.26
Changed background with new wallpapers created by myself using Photoshop.
An all-new dialer.
New redesigned notifications panel.
Some other changes that I do not remember now.
Now supports both 480p and 720p devices.
Download Dark White Revisited Theme
Additional Fonts for the Theme
Download "The Dark Knight Returns 2.4" Here