Mobile Network
Among the plethora of things that could be carried out via the Google search, the company has made another useful addition to it.
Apple may be credited for popularizing the term smartphone. It is Android though which has taken the world by storm and brought the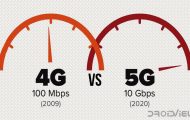 4G vs 5G networks: Learn the difference between the 4G and 5G networks and also how they differ in speed, performance, and cost.
5G will be available next year. Are you excited about it? Do you know what 5G is and how it's going to be different than 4G which