Easy access to one's favorite apps in least time possible always lies at the core of our smartphone experience. Modern man has become busy and, because we are getting used to more and luxury that involved little effort, lazy too. All of us like things to be easy and quick. Though we cannot curve all things surrounding us to be like that, we can at least fulfill that wish through our mobile devices. As users of Android, we have access to millions of free and paid apps that are capable of simplifying and making things easier.
Lots of apps at our disposal is really a great thing but, at the same time, it also poses a great challenge when you have pick one app that really stands out in the crowd. Because it is not possible for any user to try all available apps to pick one, we try our best to do the testing job ourselves to share only those apps that deserve a place in your device's app drawer.
The lockscreen of a smartphone or tablet is probably the most viewed screen of the device. And if you have a beautiful, clean yet multi-functional lockscreen on your device, your mobile experience is sure to become richer and easier. Today, we are here to share  a new lockscreen app called Swipe Lock Screen Launcher. As its very name says it is a swipe-based lockscreen as seen on most Android devices. However, what makes this app different is that it also works as an app launcher.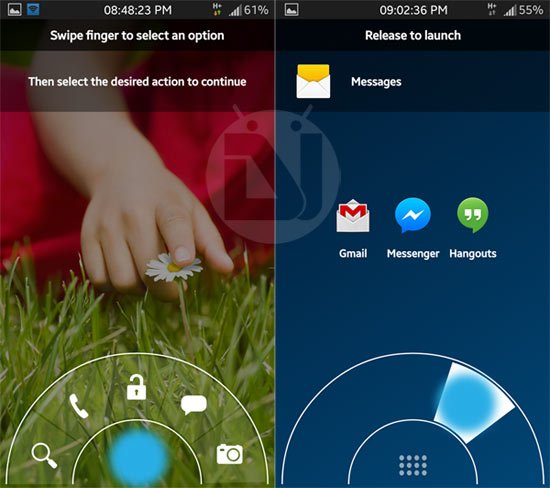 The apps that can be launched right from the  Swipe Lock Screen Launcher interface have been categorized into four parts. When you swipe your finger from the center trigger button to the lock icon the device is unlocked but, before unlocking it'll also show 4 recent used apps that you might want to launch right away. Similarly when you swipe to phone, messaging or camera icon, the lockscreen would show you apps that fall into that category.
Apart from the smart app launching feature, Swipe Lock Screen Launcher also supports widgets. While swiping the lockscreen from right to left takes you directly to the Facebook widget for quick posts from your timeline, swiping from left to right will show you a blank screen where you can add a widget of your choice. If you often search the web, you can launch your default web browser by swiping the search icon and start googling. Not only this, by swiping the audio profile icon at the left side of the LS clock, you can quickly toggle among ring, vibrate and silent profiles.
Swipe Lock Screen Launcher does not offer much options to customize your lockscreen yest it has all that really matters. You can access the lockscreen settings by swiping the settings icon on the right of the clock. If you are looking for a neat lockscreen for your Android phone or tablet and are lazy enough to unlock the screen before you can launch an app,  Swipe Lock Screen Launcher is what you might need.