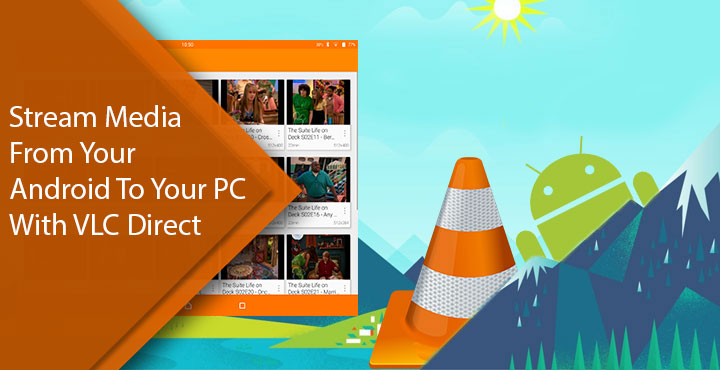 Earlier, we saw how easy it was to stream media content from your PC onto your Android device. Granted, with no guidance, the process could be a real pain. That's also true if you want to stream media content from your Android to your PC. There are probably a few other ways to stream your mobile content to your PC, but we will be using VLC Media Player. That is because most of you probably already have it on your PC. On your Android device, however, you will need to download another app called VLC Direct.
If, for some really explainable reason, you don't use VLC Media Player on your PC, you can get it here. VLC Direct is available for free on the Google Play Store as well. Do note that this is not an official VLC app and is developed by a third party developer.
Before we begin anything, note that both your Android device and your PC should be connected to the same WiFi network. Also, streaming media from one device to another will suck up your data plan quite quickly. Make sure you're on an unlimited plan. The method described below is for VLC Media Player 2.1 and above. While previous versions do allow content streaming as well, the method is a little different for different versions. It's always better to have the latest version running anyways.
Don't miss: How to Make Google Chrome Load Pages Faster on Your Android
Setting up VLC Media Player on your Windows PC
Open the VLC Media Player app on your PC and go to Tools > Preferences. 
Click on the Advanced option in the lower left corner to view the advanced preferences. 
From the side menu, select Interface > Main Interfaces > Lua and enter vlcdirect in the Password field. The latest versions of VLC require an HTTPS password in order to allow content streaming. You can change this password later if you want, but we will get to that in a bit.
Click Save.
Download VLCDIRECT.BAT by going to this link. It's a small Windows Batch script that will automatically sets up the required VLC settings.
Double click on the VLCDIRECT.BAT file once it is downloaded and it shall work its magic in a flash. If you're not alert, you might miss the slight hint of a command prompt window.
Now go to View > Add Interface and select Web.
Must read: Stream Media from PC to Android with VLC Media Player
Using VLC Direct
Launch the VLC Direct app on your Android device.
During the initial setup, it will ask you if you are running the VLC Media Player on a Windows PC or a Mac. Select I have VLC in Windows.
You will then be asked to download the batch file and guide you, not really, to all the things we've already accomplished above. Just tap Done and Done.
After that VLC Direct will look for the web interface running on your Windows PC. It should ideally find it right now. But in case it doesn't, go back to your PC and make sure VLC's Web Interface in running. (VLC – View > Add Interface > Web).
If VLC Direct was able to connect, your should see something similar to the screenshot below happen to the VLC Media Player on your desktop. 
You can try reconnecting again from the VLC Direct settings in case you couldn't connect the first time or when you're trying to connect at a later time. Just tap the three-dot overflow menu in the upper-right corner and select Settings. The very first option you see will be Automatic Connection Wizard.

Tap on it and then tap on Start in the popup that appears. Again, make sure VLC's web interface is running so that VLC Direct can detect it.
When you're connected, a toast message confirming the same is displayed on your screen.

From here you can just browse through your device folders to look for videos tap on the music tab to see a list of all songs on your device.
Tap and play like you normally would and it should play on your PC.
Also read: How to Control Android Devices with Your Computer's Mouse and Keyboard
If you would like to change the password used to connect to the VLC on your PC, you will need to change it both in VLC and in VLC Direct on your Android. You already know where to type in the password on the VLC player for the desktop. To change the password in VLC Direct, go to Settings > HTTP Password. Enter the same password you used on the desktop app.