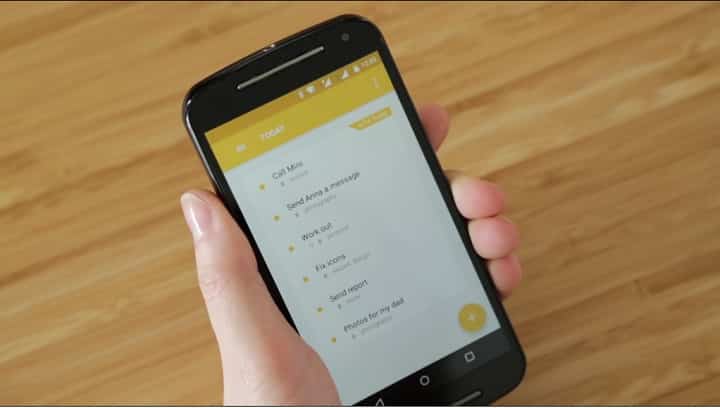 Swipes is a well known task organizer for iOS that came to Android few months back.
If you are the kind of person that finds it difficult to stay organized everyday than this app may help you a lot.
Swipes has followed Google's material design trend so the end result is very beautiful and minimal. I don't think there is any other app in this category that can get more points than Swipes in terms of looks.
In terms of usage, it is pretty basic and easy. Upon opening the app for the first time it will ask you either to take a tour or log in. Taking a tour first is recommended. To get you acquainted with the app three predefined tasks are set. These three task basically sum up the gist of this app.
To create a new task, tap on the floating yellow plus button at the bottom right corner. While writing a task you can add tags to them. This helps to keep your tasks organized and also makes it easy to find a task using the search function. Two tags, home and shopping, are available from the beginning. To create more tags tap the plus button on the tags section.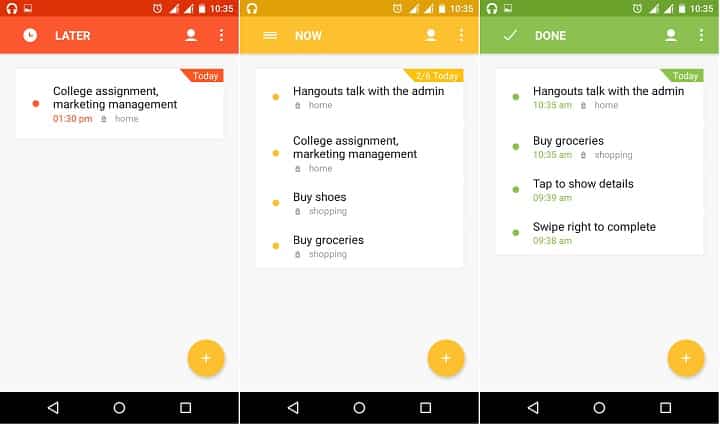 Swipes is divided in three panels, the center panel is where all your tasks are placed for easy access, left panel stores all the tasks that you want to do later on, and the right panel stores all your accomplished tasks. From the center panel, swipe right on the task to mark it as done. Swiping to the left will schedule the task for later. After swiping you'll get the option to set a time when you want to do that task. You can choose to do the task in the evening, tomorrow, next week, etc.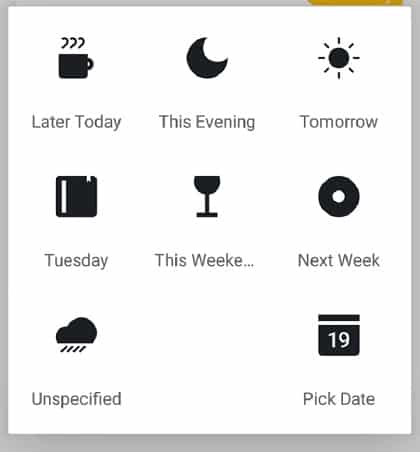 Once a reminder occurs, the item is moved back to the center panel where you can optionally set it as done, delete it or reschedule it if it's something you've been putting off.
It also comes with Evernote integration. First you need to log in with your Swipes account, then whenever you want to sync a note just add swipes in tags and your note will be synced with Swipes.
That's Swipes. One of the better tasks organizer I've ever come across.
[googleplay url="https://play.google.com/store/apps/details?id=com.swipesapp.android"/]