In today's world where we got a lot of work to do and so much information to process keeping ourselves organized is a difficult task. Thanks to the minicomputer that we carry in our pocket the task of remembering tons of stuff is made easy. Most of the people now use a task organizer to stay organized. Fortunately, the Google play store is no short of the apps that are made precisely for this purpose. Shuffle is one such app that is created to make the process of organizing your tasks simple.
Shuffle is a minimal task organizer that solely focuses on helping you organize your tasks properly without any distractive or unnecessary feature. Before you can use the app to its fullest you'll have to allow it notification access so that it can receive notifications when you are interacting with an app.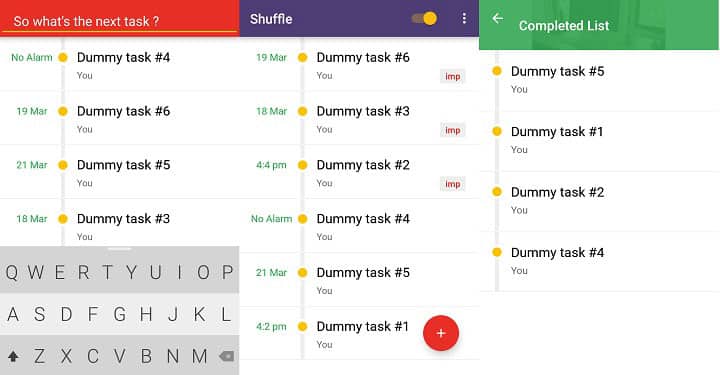 To add a task in the app simply tap the floating action button at the bottom of the screen and then write down your task. Press and hold the task to mark it as important. Now turn on the toggle on the top to sort your list by importance. Once the toggle is on all your tasks which are marked as important will be brought to the top. This is helpful if you add a lot of tasks and don't want an important one to hide among other tasks.
Tap a task once and a menu will appear at the bottom. Tap the pencil icon to edit the task, tap the double tick icon to mark it as done, or tap the calendar icon to turn that task into a reminder by assigning it a date and a time.
One feature that makes it different than other apps of its kind is that it can add tasks from your WhatsApp texts. If you get a WhatsApp text and @ symbol is added before that text then it will be added as a task in Shuffle. Here's an example – you get a text from one of your friends/colleague stating "@there's a meeting today at 4, be there on time." Because @ is added before the text Shuffle will add it as a task in your tasks list.
That's Shuffle, did you find it useful and worth trying? Do you use any task manager? If yes, why do you prefer that task manager over others? Tell us what you think about it in the comments section below.