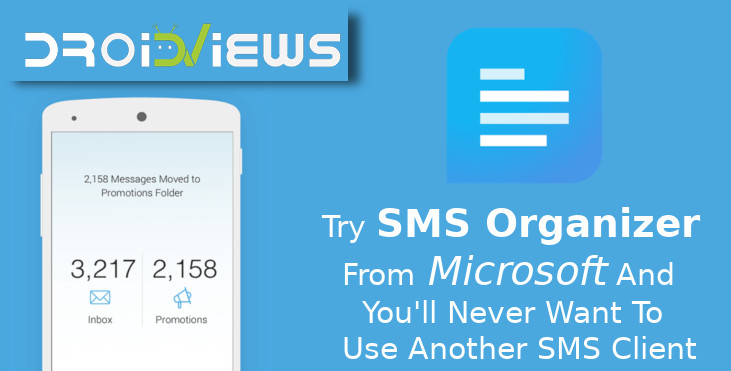 In many parts of the world, instant messaging services such as WhatsApp have taken over the arena. And yet in many other parts of the world, SMS is still preferred over instant messaging services. Businesses all over the world though do rely heavily on SMS messages. They work without Internet which makes them much more reliable. But this also means getting a lot of promotional messages from so many different sources. Not to mention everything online now uses SMS messages to verify it's you. Add in the messages from your actual contacts and you're in for a pile of … mess, when you open your SMS app. SMS Organizer from Microsoft has been trying to change that.
Edit: Sort of forgot to mention this but the app is only available in India via the Play Store. Thanks,
Functionality
The Microsoft Garage team came up with SMS Organizer quite a while ago actually. We even listed it among some of the best Spam SMS Blockers. But months have passed since then and the app has been updated for the better. Back then, although it was really good it didn't seem like a finished product somehow. It sure does now. Microsoft's SMS Organizer is perhaps the first and only app of its kind because it deploys machine learning to differentiate between the different kinds of SMS messages a user receives.
"The SMS Organizer app uses sophisticated machine learning algorithms to classify and interpret transactional, personal, promotional, and spam messages. The app occupies very little space on the device (just about 3MB) and works independently without being connected to the web," the company said in a statement.
There are a lot of apps that block spam messages and categorize various messages into categories, and at least one of them uses something like machine learning as well. But SMS Organizer is still the best choice because it has so much more to offer. It even sets reminders for upcoming tasks such as catching a flight, payment of bills or booked movie tickets, provided you received an SMS about it.You can, of course, create reminders manually as well and tag a text message along with the reminder.
SMS Organizer can even detect authentication codes and OTP codes in your messages and then it displays them big and clear on the notification so you don't have to look for it. It can be a lifesaver if you are using the browser or an app which cannot read OTPs. The list of features hasn't yet ended because there's one more.
It allows you to create and save backups of all your SMS messages to, strangely enough, your Google Drive account. I was surprised, a Microsoft app letting users use Google Drive and not even including an option to use their own One Drive service? I'm not complaining though.
Interface
An app meant for organizing your SMS messages that can't even organize it's interface elements nicely doesn't really sound very promising. But SMS Organizer isn't one of those. From a UI perspective, the app is simple to use and not as cluttered as it should have been considering just how many things it has going on right on the main screen.
One of the best things is that you can simply swipe a message to move it to any other folder or left swipe to mark it as read/unread. But it also leads to one of my gripes that you may or may not share. Swiping to archive a message would prove a bit more convenient than moving it to a folder. Sure you can still swipe and then select the archive folder but it adds an extra step. To add to that, it is not as satisfying as swiping to archive or delete, if that makes any sense.
There is a dark mode though but it does not use a true black or even the material black background. SMS Organizer actually came out of an experimental Skype Lite feature so it uses the Skype colors as well. It's white and blue normally and turns a mix of dark grey and blue in the dark mode.
Privacy
An app that reads your messages and uses machine learning to make sense of it is sure to raise suspicion. Concerned about privacy? You should be. But at least as far as official statements go, none of this is actually cloud-based. The app sends no data to the Microsoft servers and everything happens right on your phone.
Install SMS Organizer