There are many ways you can make money and selling the photos you captured is one of them. There are several online portals where you can sell your photos and make money. Here are some of the best apps for Android to start with.
A little while ago, we discussed how through certain freelance apps you can sell your skill and earn cash. If you like photography, then lucky for you, the market to sell your photos is even greater. These applications can help you gain exposure and earn extra cash by selling photos that you've taken. You don't even need a DSLR or a professional camera. A decent phone and a bit of imagination and passion will do.
Dreamstime
Dreamstime is the first app that we'll talk about. You can upload any image you'd like with a resolution greater than 2.5MP directly from your smartphone. Images from Google Drive, Google Photos, Dropbox and more, are applicable.
The application is also a great way to track your sales and earnings, see image-specific statistics and get real-time sales notifications. Through this app you can expose yourself to clients from all over the world, so making money should be a matter of time.
Download Dreamstime now and try it out.
Foap
Just like Dreamstime, Foap provides you with a huge market to expose yourself and your pics to. One of its most interesting features though includes brands. Companies like Coca-Cola are often in search for great pictures and what's a better place to find them than an app like Foap. As a result, photo missions are regularly posted in the app, with the money prize reaching the level of thousand dollars.
The app is also integrated with PayPal, meaning that if you win such a mission you can easily cash out on your prize. Other interesting features include live feedback from other users, unlimited uploads and partner distribution through sites like Getty Images.
On the downside, Foap withholds 50% of your sales which can be deemed as a quite high percentage.
Download Foap and try it out now.
Must read: Log Out of Android Devices Remotely [How to]
Snapwire
Snapwire is the final app for today's list. Just like Foap, brand challenges are present in the app and are offering award money as well. One more interesting feature is leveling up. The better you are the more levels you gain. That allows you to get exclusive access to paid photo Requests from popular brands.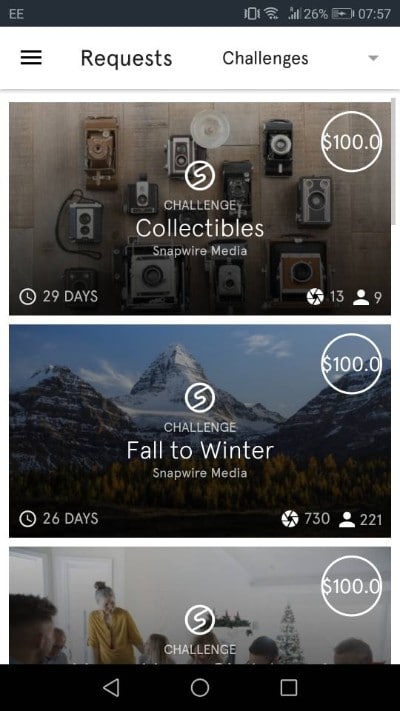 Other features include connecting with other photographers, submitting pictures through both your gallery and the cloud and real-time notifications about Requests.
Just remember that being active and earning points can help you level up and unlock more features.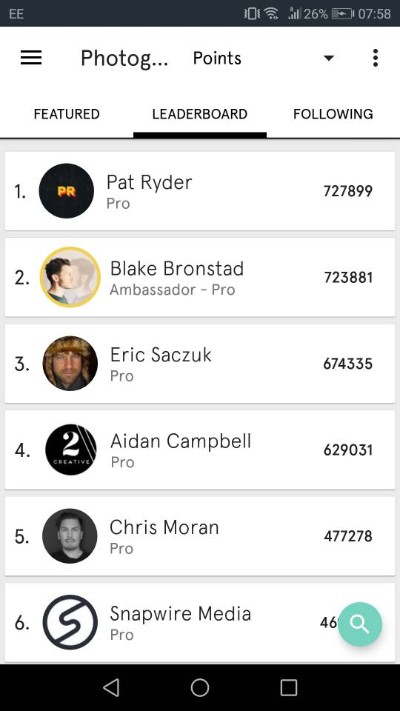 Download Snapwire and start earning now.
Hopefully, these apps along with the article we wrote about Freelance apps will help you meet your financial goals. In case you use an app that's not on the list, let us know by commenting below. As always thanks for reading.
Read next: 20 Google Maps Tips and Tricks You Must Know About