Every Android device, be it a smartphone, tablet, or a smartwatch, comes with security guidelines to secure its user's data. Privacy has been a concern to millions when it comes to personal data, especially on a worldwide technology. Every smartphone manufacturer and app developer is taking concentrated measures to provide a better sense of security to their users. Moreover, Google since a long time has been working hard to add top-notch security services to its unified list of apps, and we appreciate that.
Every Android user is highly concerned about his or her device's security, for which they install various 3rd party applications from the Play Store. A situation might arise that you may have forgotten your device somewhere or maybe it was stolen from you while you were in the locals, traveling. Earlier, we used complaint our nearby Police stations and lodge a report for our lost device, but nowadays, you can be the master to your own device. You can find your lost or stolen smartphone by yourself, until and unless the thief is a little more clever than you (eh?).
Google's Android Device Manager is the native security service offered to each and every Android and Google account user, to take hold of their device in a much better manner. It has proved itself to be more than useful by thousands of users to secure their lost or stolen Android device. Today, we'll draw your attention to this mighty useful service offered by Google and learn to operate it to secure your smartphone, when in need.
Install Android Device Manager
ADM is available to every Android user who has a Google account set up on his device as well. It can be installed on any Android smartphone or tablet running Android version 2.3 or up. Click on the app box below to download and Install Android Device Manager to your smartphone.
[googleplay url="https://play.google.com/store/apps/details?id=com.google.android.apps.adm"]
Enable Android Device Manager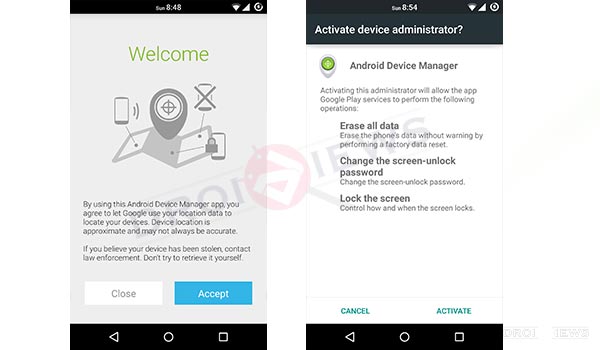 Once you've installed ADM on your device, you will need to turn it on, to permit it to access your account and related services, for the app to operate. Now, open the Android Device Manager app from the app drawer. When you're opening for the first time, you will be prompted to accept the terms, press on Accept. In the next step, you will asked to choose your desired account and enter the corresponding password, and press on Sign in. Once done, your ADM app will initiate, giving you the list of registered devices (if any) with your account and the actions you can perform.
You will also need to go to Settings > Security > Device administrators. Tap on Android Device Manager and press ACTIVATE. This will give your app the permissions to perform the required actions on your device via ADM.
Your Android device is now completely setup to be used by ADM. Let us further begin on how to use ADM and its various options to secure your Android, when in need.
Locate Your Android Device
If you have lost your piece or it got stolen, the first step would be to secretly locate it either by using the ADM web interface or the Device Manager app.
Open the following address with your PC browser: https://www.google.com/android/devicemanager
The ADM web interface will load and prompt you to log in with your registered Google account
Or, open up the Android Device Manager on one of your connected devices.
The interface will load, contact your device and locate it. Now, there is a plus, you will be displayed when was your device be able to locate last, at what location and when was it online.
It is to note that the location displayed might not as well be pinpoint, but an estimate location, which may be accurate up to a few meters.
Ring the Device
Now that your device is lost or stolen, it is better than other take note of some mishaps, we are not saying that others will safeguard it, but it's always worth a chance. This function will set your device to ring at its maximum value constantly for 5 minutes until you press the power key. Once you have logged in to your ADM web interface or app, click or tap on Ring. A message will pop up, confirm by pressing on Ring.
Ringing the device is your first chance to find it, and is extremely helpful at times.
Lock the Device
Ringing the device did not work? Now before you try to ring more while searching, there is something else you should do to secure the device, even if someone catches his hands on it. Its time to lock your device using a personalized password, display a custom message to whosoever has hands on your device and provide an option on your device to call you (or any number provided).
Click/press on Lock. A form will pop-up, where you have to enter your own personalized password (make sure it's not easy to guess). Next, enter a Recovery message for anyone who is viewing your device, this could be warning message or request to return the phone to its rightful owner (you), like "Kindly, return and call me back", "You have been warned for your theft!" or even a little bargain (cause it is not valuable then your smartphone) – "Please return it and get a nice award as appreciation". The last part would be to enter your Phone number where you can be contacted, make sure you're always near the phone number you provided, you might be lucky and someone else may be generous.
Erase the Device
Eventually, if you have laid your hands on the above and if it still hasn't worked, the only way to protect your data from getting into some other's hands will be to erase the data completely off your smartphone. You can remotely erase all the data on your device using the Android Device Manager web interface or Android app. Erasing your data, is a potential step and can't be undone, think twice before doing it, also ADM may or may not be able to wipe off your SD card, but everything internal will be erased.
Tap/click on Erase, read the warning message carefully and agree to it by selecting Erase.
Trying your luck with Android Device Manager may work well but if it hasn't, you should lodge a complaint and the public servants may help you to recover your device.
My Opinion
By God's grace, I have never had my Android phone stolen ever and I hope I never will (keep it real close to my heart), but there were situations when I forgot it at one of my pal's house. Now, that got me really scared, of course, giving me ugly thoughts of the device to be stolen, on the way. Accidentally, I happened to remember of Android Device Manager to be installed on it and frankly, I installed it just a few days earlier (pardon my luck) to test whether it actually worked. The only thing I did was, switch on my laptop, browse to the online ADM client, log in my account and locate it, finding it to be on a location just around my friend's house, I put a loud ring to it. Following which, my friend got hold of my device and contacted me instantly. I tell you what a relief it was to hear from him.
Luckily, I had it at my friend's place and we're never that lucky always. But, Android Device Manager did save me and it can be extremely helpful to you too in your saturation time, so just hit the app box link mentioned earlier, install the app on your Android device right away and register the service. Good luck with securing your smartphone with Android Device Manager. We hope you never find the need to use ADM (of course, we don't want you to lose your device ever). Provide us with your feedback and help us build a better community.