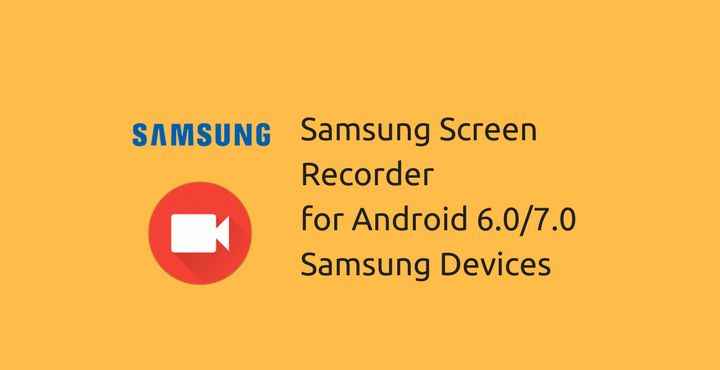 I have always liked highly customized versions of Android (as long as they don't affect the performance very much). Right from the days of my old Xperia Neo V, I have been using MIUI – a highly customized version of Android.
Another highly customized and perhaps, the most popular Android implementation is Samsung's TouchWiz UI. The main attractions with all these UIs are that they look completely different from stock Android and offers some bells and whistles (irrespective of whether the user needs it or not). One of the main disadvantages of them is that they have different Framework and because of that, any native apps from these Android implementations can never be ported to work on other Android flavors. Sometimes, it's the other way around – some apps behave in a weird way as opposed to their expected behavior.
Must read: Use S-Health App on Rooted Samsung Devices with Tripped KNOX
One such case is the usage of screen recording apps in Samsung phones. They often force close and cause issue and doesn't play along very well with TouchWiz. But, thankfully there is a native screen recording option in TouchWiz which Samsung decided to hide for whatever reason. In this tutorial, we will tell you how to enable native screen recording on Samsung devices running Android 6.0 Marshmallow and 7.0 Nougat.
Necessary Downloads:
You need two things to make this happen.
First, download a little app called 'Activity Launcher' from the Google Play Store by clicking below:
[googleplay url="https://play.google.com/store/apps/details?id=de.szalkowski.activitylauncher"/]
The second one is the Samsung Screen Recorder App APK file, which you can download from the below link:
Enable Samsung Screen Recorder on Android 6.0/7.0 Devices:
Follow the below steps to enable native screen recording option in your Samsung Device:
Copy the downloaded file to your phone memory. Open a file manager of your choice, navigate to the downloaded file and tap on it to install as normal APK.
Open Activity launcher app. By default, you will be in 'Recent Activities' screen.
Go to 'All activities' by tapping on the drop down on the top left corner.
Look for 'recorder' in the list of app that appears.
When you do find it, tap on it once. Long press and choose the second option (activity.settings) and select 'Create shortcut'.
Now the 'Record Screen' shortcut will be displayed on your launcher's home screen. Just tap it whenever you want to start recording the activities going on your phone's screen. Enjoy!
Try the app and let us know how it fares against the 3rd-party screen recorders, in the comments below.
Recommended for you: