Samsung Galaxy S10 to feature an exceptional in-display fingerprint scanner
Korean tech giant Samsung is will introduce their flagship S10 early next year. The phone is tipped to feature a fingerprint scanner embedded into the display. We know this doesn't sound that great or of a big deal right as we all have seen the Vivo Nex S smartphone unveiled recently to feature the same. But hey! hang on before you come to a conclusion. As per a report courtesy of Ice Universe from twitter, a credible source when it comes to leaks and rumors regarding smartphones, Samsung CEO DJ Koh has said that the company is planning to equip the S10 with an in-display fingerprint scanner that is not simply an optical fingerprinting solution. The company will come up with a solution much better than the usual optical fingerprint scanning solution as the company feels the same would provide users with a bad experience. Check out the tweet below.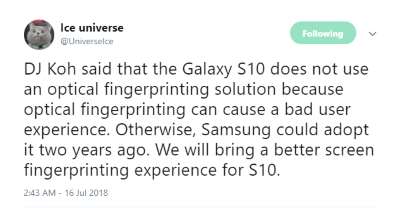 The tweet further states that the Korean tech giant could have implemented an in-display optical fingerprint solution two years ago if they felt that the same would not have a bad experience for its users. Speaking of which, Samsung will come up with a better in-display fingerprint scanner technology on its upcoming flagship, the Galaxy S10 early next year.
Source: @UniverseIce from Twitter