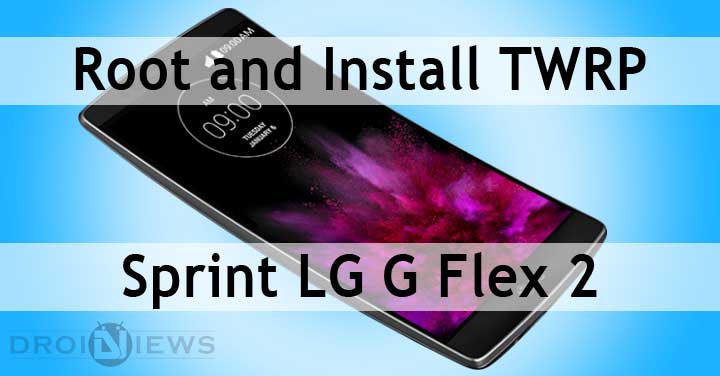 The revolution of curved screens in mobile devices is slowly creeping up on the manufacturers. With the masses demanding more innovations with every new flagship the pressure is on the OEMs to come up with new ideas. LG is one such company that always looks to push the boundaries of making smartphones, and it did the very same when it launched the first of its kind G Flex.
Now recently they have launched its successor the LG G Flex 2, making huge improvements over the first by providing features such as a large 5.5-inches, 1080p and 403 ppi 23-degree curved Plastic OLED display, which matches many of LG's curved televisions.
It was one of the very first phones to launch with the 2.0GHz octa-core Snapdragon 810 SoC, along with 2GB of RAM. Equipped with a 13-megapixel camera sensor, dual LED flash, OIS+, and laser autofocus feature, but the camera software has been updated to be more responsive.
Well, now if you happen to own the Sprint version of the LG G Flex 2, then can achieve root access on the Sprint LG G Flex 2.
Preparations
First of all you will need to ensure a few things before we start:
Confirm you are using Sprint LG G Flex 2, on software version ZV6/ZV7.
Note: Any other carrier model will not work with this method. The user is to perform this at their own risk.
Ensure that you have the necessary LG USB device drivers installed (Download here).
Check if you have at least 80-85% of battery charge. We don't want the phone dying in the middle of the process.
If you have done this process before on other devices then you must be familiar with adb and fastboot. Ensure that you have it installed.
For those who aren't familiar with adb and fastboot, Please refer to our detailed guide on How to Setup ADB and Fastboot on Windows within Seconds
Enable USB-Debugging from Developer Options in the Settings menu.

If you cannot find Developer Options, then you'll have to first enable it by going to Settings -> About Phone -> Build Number and tap it 7 times until you see a small notification that you have enabled it.
Then return to the Settings menu, you should find Developer Options there. Open it and enable USB Debugging.
Make sure that you have backed up all your personal data and apps as all data will be erased!

For Contacts, Calendar and People details use Google Accounts Sync to backup
For Apps and App Data check out our detailed post here.
Disclaimer: The following procedure is highly risky and there are chances that you may brick your phone if not performed correctly, DroidViews cannot be held responsible if that happens. So the user should tread cautiously and at their own risk.
Downloads
Send_Command tools: Here
ZV6: rootedsystemLS996_ZV6.rar
ZV7: rootedsystemZV7_LS996.rar
Root Sprint LG G Flex 2
Once you have downloaded all the files, we can begin the procedure
Step 1 – Extract the tar.gz format on your PC now. You should get an .img file.
Step 2 – Now, transfer the .img file to the root of your device's internal storage. Don't paste the file inside any other sub-folder of internal storage and do not rename this file.
Step 3 – Extract the Send_command tools file you downloaded on your PC. The Send_Command.exe file and the ports.bat file are of most importance to us.
Step 4 – Now, open the command window in the folder in which you have the Send_Command.exe file (shift+right click).
Step 5 – Reboot your G Flex 2 into Download mode. Make sure your G Flex 2  is disconnected from PC, Power off your G Flex 2. Wait for 5-6 seconds after screen goes off, hold the Volume up button and power it up again, connect your G Flex 2 to PC using USB cable.
When screen turns on of your G Flex 2, you are in download mode. You would have the text 'Firmware Update' written.
Step 6 – Next we need to find the COM port through which your G Flex 2  is connected to PC. Just double click the ports.bat file on your PC. You will get COM port nos. Look for port no. with DIAG written. Remember it.
Step 7 – Now switch to the command prompt window you had opened in Step 4 and type the following command.
Send_Command.exe \\.\COM4
"Replace COM4 with the COM port no you found in Step 6".
Step 8 – Once you get an output that ends with #, type in the following command next:
Id
Wait till you get an output like 'uid=(0)root gid=(0)root'. If you don't then press Ctrl+C and repeat Step 7 and 8 till you do.
Step 9 – Once you get the 'uid=(0)root gid=(0)root' output, type the following command next:
dd if=/data/media/0/rootedsystem.img bs=8192 seek=58368 count=522240 of=/dev/block/mmcblk0
Step 10 – Once the command finishes running type 'LEAVE' in Command Prompt window to exit the application and that's it! You have successfully rooted your Sprint LG G Flex 2
For any problems during flashing, let us know in the comments section below.