If there is one thing which I hate more than cleaning my room, it's cleaning my phone.
No matter how awesome your phone is, it won't stay the same always unless to maintain it properly. Android phones have the tendency to slow down with the passage of time. If your phone was bloatware free from the beginning then you might not face this problem. But that doesn't mean your phone won't slow down. It will eventually start collecting all the junk like app caches, app residuals, files you downloaded to use once but forgot to delete them, etc.
User Interface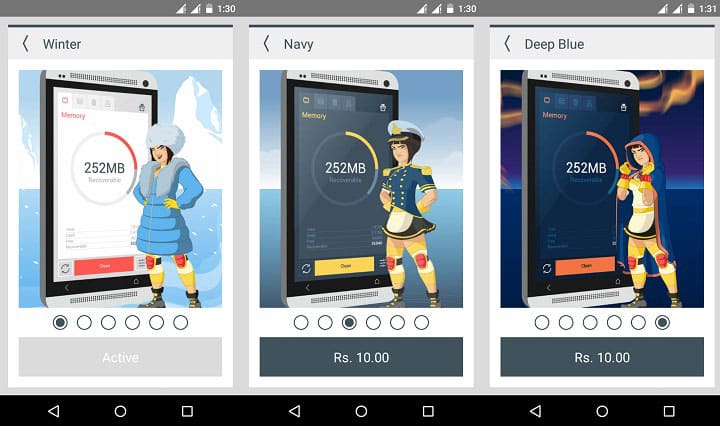 User Interface of The Cleaner is pretty straightforward. Instead of loading it with tons of features and make it complicated, the developers have put only the features that are needed the most. The app itself is divided into three tabs i.e. memory, storage, and apps. Each tab performs one function. It also comes with a bunch of themes, but only one theme is free, to use other themes you need to make an IAP.
Memory Manager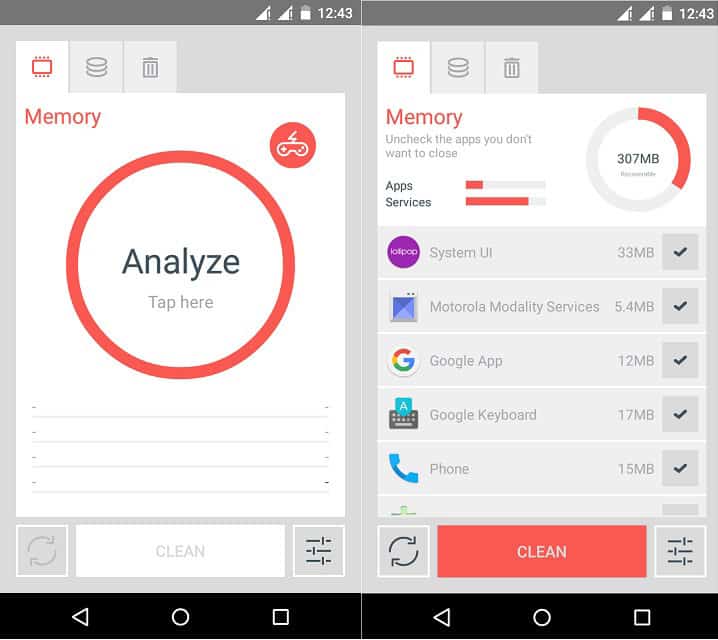 The first tab in The Cleaner is memory tab which is also the default tab. Tap on the big red animated circle on the screen to start the analysis process. Now the cleaner analyzes what's happening in the background, which app is consuming how much memory, are the processes running in the background of any use or they are just consuming the memory without serving any purpose, and other similar stuff. Once the analysis process is complete, it will show you the apps that are running in the background and how much memory can be freed if all the apps are closed.
In my case, 307 MB of memory could be freed if I close all the background processes. You can also see all the apps running in the background and how much memory each of them is using. Uncheck the apps that you don't want to close and tap on the "clean" button to clean the memory.
Storage Manager
The second tab is storage manager which can be accessed by swiping to the left. Tap on the big blue animated circle to start the analysis process. Now it will analyze all the stuff that are taking up unnecessary storage. It looks for all the apps and game caches and analyzes the download folder. In my case, there was 19 MB of app cache and 106 MB of file cache in the download folder. Uncheck the files that you don't want to remove and tap on "delete" button to delete all the unnecessary files.
Apps Manager
The third tab is dedicated to apps manager. Tap on the big pinkish animated circle to start the analysis process. The cleaner will categorize your apps in various categories like install date, storage used, and alphabetical order. It also sorts app on the basis of permission they use, like SMS permission, camera permission, location permission, etc. Tap on any of it to see all the apps. Now you can uninstall many apps at once.
Why Use The Cleaner App Manager to Uninstall Apps?
It categorizes all the apps in various categories. You can see which app is using more storage, which app is getting access to what function, and uninstall apps in bulk. You can also use it to identify malicious apps. If an app is using a permission which it doesn't require then it is considered a malicious app. For example, a flashlight app that asks for SMS permission could be malicious.
Pricing
The Cleaner is free to download from the Google play store and is ad-supported. Although the ads don't interfere with the usage, you can disable the ads completely and support further development of The Cleaner by making an IAP of $1.99. This IAP also unlocks all the themes.
Final Thoughts
The requirement of an app cleaner increases if you are using an old device. And if your old device has tons of bloatware, then a cleaner app is a must have. For devices with specifications like 512 MB or 1 GB of RAM and 4 GB or 8 GB of storage, a cleaner app is a necessity. I have a Motorola Moto G 3rd Generation with 2 GB of RAM and 16 GB of ROM + 16 GB of SD Card so it's not necessary for me to have such an app.
What Do You Think Of It?
Have you used The Cleaner? How was your experience with it? Did you like it? Do you use any other app for this purpose? We would love to hear from you. Share your thoughts with us in the comments section below!