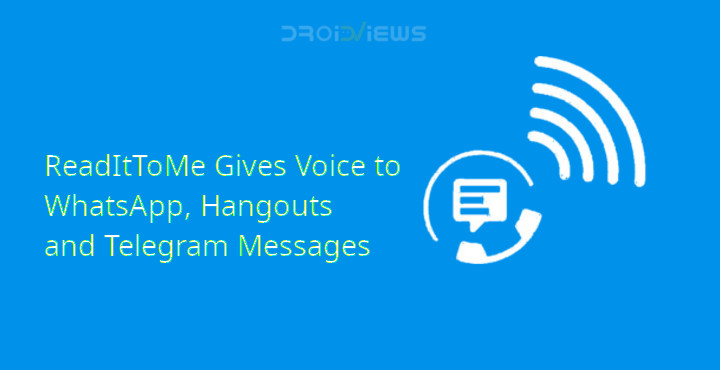 Android is not as restrictive as some of the other operating systems on the market, desktop systems included. Even without root, there are Android apps that will let you do almost anything, such as Tasker. You can even schedule messages, calls, WhatsApp messages, Facebook posts and set up auto-replies for calls and texts. One can do even more with root access and the right apps. And that basically sums up what smartphones are. You don't have to depend on manufacturers for features. You can download features from the Play Store in the form of apps. Once such app, called ReadItToMe, reads out your WhatsApp, Hangouts and Telegram Messages.
Install ReadItToMe
[googleplay url = "https://play.google.com/store/apps/details?id=robj.readit.tomefree"]
Features
Many phones these days can read out your texts or emails. Whether it's an inbuilt feature, through Google Assistant, or via an app. But when it comes to third-party apps like WhatsApp, there aren't many options, if at all. ReadItToMe, as the name suggests, reads it out to you so you don't have to pick up your phone or leave what you're doing.
If it only read to you though, you'd still have to pick up your phone in case you wanted to respond to the message. But the app also lets you respond to these messages with your voice on all the three afore-mentioned apps: WhatsApp, Hangouts, Telegram. This is a paid feature, however.
The app actually came out way back in 2012 but it did not get many updates. The developer, Rob J, has updated the app now bringing a ton of bug fixes, a lot more stability. The interface has also been given a much-needed uplift, incorporating a modern Material Design. One of the best things about the app is that you can set it to automatically switch on only when you're connected to your home network.
It can also covert broken English into proper English which is really smart and impressive. Say, John Doe texts you, "btw we r goin to d mall" it'll be read out as "By the way, we are going to the mall". The app supports any language as long as the TTS (text to speech) on your phone supports the language. It can also read out notifications from any app but that is a paid feature as well.
See also: How to View Deleted WhatsApp Messages
How to use ReadItToMe
When you launch the app, you get many options on the main page. Under Apps, you can select which apps to read notifications from which is a paid feature. You will have to allow the app Notification access so that it may read your notifications.
To enable ReadItToMe for a certain app, tap on the circle in the top-right corner of the app's card and then you can select the features you want to enable. The app does a good job of explaining what each symbol or icon means. Make sure you go through the tutorial carefully because if you don't you may feel lost since there is no other explanation about the icons beside that.
If you tap on SMS & calls, you can select contacts from which calls and messages will be read out loud. You can select specific contacts, all contacts, or just unknown numbers or everyone. Like the Apps screen, every contact card has icons without explanations. Also, like the Apps screen, the app will explain what each icon is for so make sure you pay attention.
Profiles are something more advanced users will want to use. As you can see from the screenshot above, there are already three profiles preset. The profile names are also quite self-explanatory: Always on, or only when wired headphones are plugged in or only when enabled from the quick settings.
You can add more profiles based on your WiFi network or connected Bluetooth devices such as your Bluetooth headset using the floating + button at the bottom of the Profiles page. Speech & Voice & Recognition lets you customize the voice you hear, the speed, language, engine, etc.
Don't miss: How to Respond to WhatsApp Messages Automatically