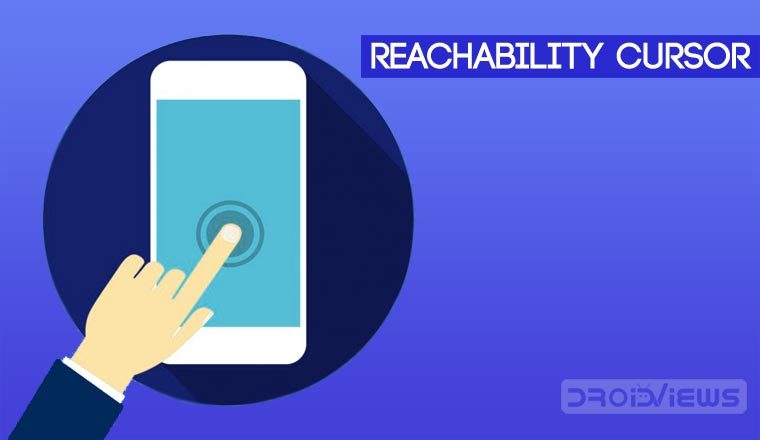 A plethora of apps and games hit the Play Store every day, but only a few of them are good enough to grab our attention. Reachability Cursor is one of those apps as it addresses a very practical thing and that is, using smartphones with big and tall displays easily with one hand.
In the growing age of smartphone design and aesthetics, phones are getting out of hand, literally. We see multiple OEMs releasing their flagships with displays no smaller than 6″ these days, and to think that these dimensions were considered to be of tablet territories just a few years ago is insane. Big displays are gorgeous, immersive, they provide the user with the captivating pixels to stare at. However, as much as people appreciate these tall 19.5:9 aspect ratios, it's getting that much more difficult to reach the top one-fourth of the display, let alone all the four corners.
And this is an emerging issue because Android still utilizes the top area of its UI for various important actions. While many applications including Google's own suite have been trying their best to push all the relevant options below the viewing space of the app, it's in the very DNA of Android to have a control center at the top. Below are good examples of options that Android still pushes to the top corners of the display.
Now it is a good thing to note that many OEMs have figured out and prioritized their UI in such a manner that one-handed operation has become easier. Some manufacturers like Samsung, with their One UI, have taken an oath to make reachability an important aspect of their smartphones now. While it is great to see individual brands springing into action, Android is still diversified into millions of devices, running thousands of skins, with hundreds of design queues. This makes talking about "reachability" a very subjective topic.
We, at DroidViews, have already covered a workaround for this known issue. You can check the following guide and enable one-handed operation on your Android device in the matter of a few minutes. The given procedure basically snaps down the top of your display by a few pixels, the same as Apple does in its operating system.
However, Reachability Cursor is an intuitive application, designed and thought out by NiftyUI over at xda. This method neither requires root nor does it require any complicated steps to get started. All you have to do is sideload the application, which is also available at the Google Play Store. Any Android device running Nougat and over can enjoy the goodness with this one!
[googleplay url="https://play.google.com/store/apps/details?id=com.niftyui.reachability"]
You can watch Reachability Cursor at play in the following video:
How to Use Reachability Cursor
Download and install the application from the link provided above.
Launch the app, and grant it Administrative Permissions by following the steps guided by the app itself.
Once you are in the app, you can either tweak the touchpad settings as per your liking or get started right away since the predefined settings work flawlessly too.
To activate the floating cursor, simply swipe towards the center of your screen from any one of the sides.
You can drag this cursor around, and release to tap.
There is a pro version for the same application, and it provides more options to play around with, and even a long press option which many users might want to have. However, even the free version is great to have, to reach all those annoying options tucked away in the corners of the app.
To conclude, Reachability Cursor might be the one service you've been secretly wanting but just didn't know existed. Well, now you do, and what are you waiting for, grab it while it's still free!