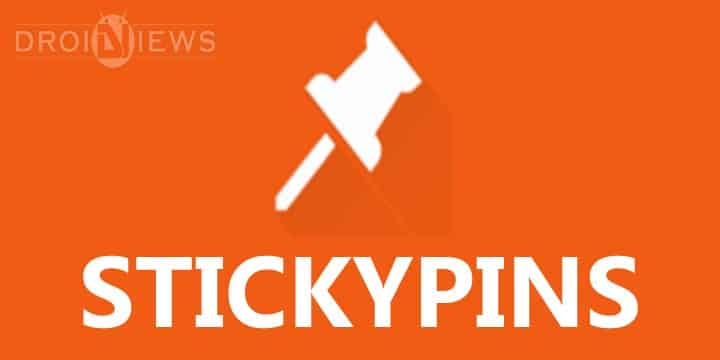 You need to submit a paper in your next class and you are quite sure you will forget about it. Worst case scenario – you remember about your paper when it's time to submit it. To not to forget about it any modern day kid will probably pull out his smartphone, open the note-taking app, and jot down the assignment.
But there is this one problem – how many of you actually open that app and look for what you had to do regularly? Some of you may say yes, but majority of you must forget what you had to do even after writing it down. It's like to-do lists are simply not your thing. You need something like a post-it note so that you can see what you had to do every time you use your smartphone.
You need StickyPins.
StickyPins for Android works perfectly as a digital post-it note. StickyPins lets you create your own notification/reminder and pin it to the notification drawer. Using it is a good option if you don't like to fill your home screen with notes widgets or don't like to open such apps to view your important tasks.
Features:
Easy To Use: Creating a new task and pinning it to the notification drawer for later viewing is easy. To create a new task tap on the app icon and write about it in the popup form and tap on "pin" to pin this task. This pinned task can also be seen on the lock screen if your smartphone is running Android lollipop. That's a plus point. To edit an already pinned task tap on it from the notification drawer and update the popup form with new information.
Persistent Pins: Pins can be marked as persistent to avoid removing them while clearing other notifications. Persistent pins can be removed by simply clicking on it from the notification drawer and selecting delete option when pin opens.
Pin Priority: Pins can also be assigned a priority. Priority options that StickyPins provide are default, min, low, and high. Each priority is distinguished by colour. A pin with default priority is of blue colour, a pin with min priority is of yellow colour and is placed at the bottom of the notification drawer, a pin with low priority is of green colour and is placed below all notifications, and a pin with high priority is of orange colour and is placed on top of all notifications.
These are some of its important and useful functions. Some other features include material design, dark and light theme option, battery and memory efficient, etc.
StickyPins is worth your time if you easily forget your tasks as it works as a perfect reminder. Do check it out and share your experience with us in the comments section below!