Samsung's One UI is awesome and so are the icons that come with it. While it's not possible to have OneUI on non-Samsung devices, you can at least enjoy One UI Icon Pack which is inspired by Samsung One UI 9.0.
As some of you already know, Samsung has recently unveiled One UI, the new interface based on Android 9.0 Pie. The official Beta Program has started a couple of weeks ago and some lucky users already had the opportunity of trying it on their devices. Unlike previous iterations, One UI focuses on simplicity and usability, thus making the experience more streamlined. Along with several important changes, Samsung has introduced a completely revised set of app icons. Today we'll be talking about One UX Icon Pack, which allows you to bring the new design over to your personal device!
What's Samsung One UI?
One UI is the successor to Samsung Experience, specifically designed for the upcoming Galaxy S10 and Galaxy F. With this update, the company has decided to embrace many of the official Android Pie changes and design elements. However, they went a step further by addressing one-handed usability issues. In fact, that's exactly what the name One UI refers to, and this concept has been applied to every part of the interface.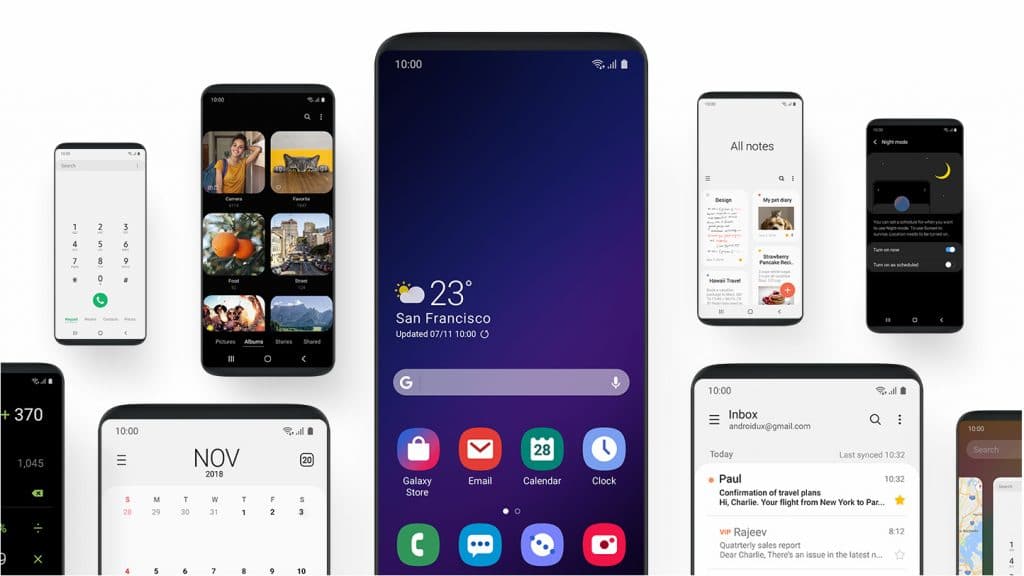 This update will start the official roll-out during January 2019, so it's not very far away. Additionally, for the most curious users, Samsung has recently opened the One UI Beta Program. In other words, if you live in one of the supported countries, you can already update the 2018 flagships. However, there's also a manual update method for those who cannot install One UI Beta officially. If you're interested, we recommend checking out the detailed guide. We also suggest reading our overview and complete review of the first beta!
One UI Icon Pack Overview
The One UX Icon Pack is unique in its simplicity, and it's a great choice regardless of what you're looking for. In fact, most icons look just like their original ones, with the exception of the different shape. This is especially great because all your apps will remain easily recognizable, thus avoiding confusion.
Additionally, it helps to maintain a clean and minimal interface. Regarding the design, all icons are characterized by the new squircle shape, which accurately replicates the Samsung ones. Although shapeless icons have a special charm to them, you cannot deny that his solution contributes to a more polished look.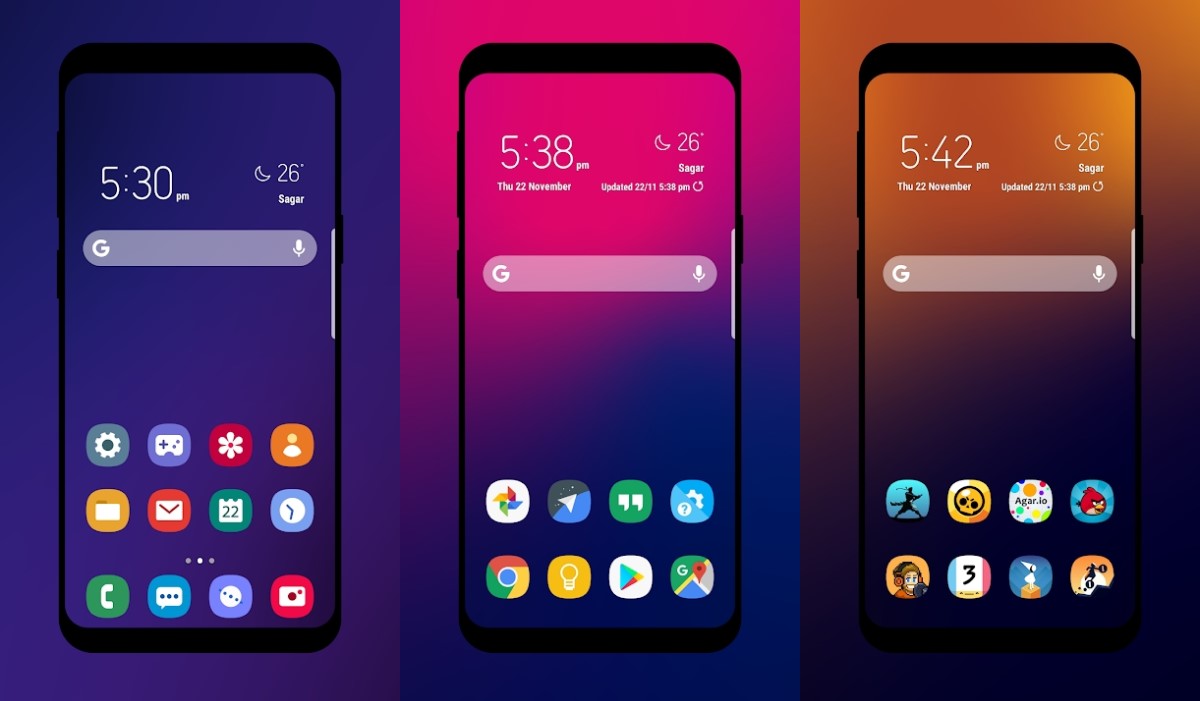 The main distinctive element you're probably looking for is the new One UI look. As mentioned, Samsung has modernized all the old icons, which haven't changed a lot since the Galaxy S8 announcement. Outlines have been replaced with solid shapes, while darker, more saturated colors take the place of the previous ones.
Even if you don't have a Samsung device, you can take advantage of these icons for your default system apps. Moreover, you'll find a total of over 7200 icons, which ensures the best compatibility with your favorite apps. Lastly, the One UX Icon Pack also gives you access to some beautiful wallpapers to complete your setup!
You may also like: Download Samsung One UI Default Wallpapers
One UX Icon Pack Download
The One UX Icon Pack has been published on Google's Play Store by Theme.Studio. While it probably doesn't sound familiar to you, the developer behind it is Saurabh Gupta. Some of you may have heard this name since he's the founder of the Themezilla brand. Over the years, he has published several awesome icon packs, such as Cylinder UI and Fusion UI. We recommend checking his Play Store pages, so you can get an idea of all his wonderful creations. Going back to the One UX Icon Pack, we'll leave the download link below, so you can take a closer look. Even though it's paid, the price is entirely justified by the attention to detail. Moreover, you have two hours to ask for a refund, so you can preview the app and decide.
[googleplay url="https://play.google.com/store/apps/details?id=hastamev.oneui.com"] [googleplay url="https://play.google.com/store/apps/details?id=com.sfazz.uxs9iconpack"] [googleplay url="https://play.google.com/store/apps/details?id=com.one.ui.s10.iconpack"] [googleplay url="https://play.google.com/store/apps/details?id=ru.pt.iconpack.oneui"]
Read next: Best Games of 2018 on Google Play Store