Remember the game smash hits from last year made by SMG studios, One More Line, and One More Dash? Well, after a long pause, it still doesn't seem that the game series has ended. We now have the third installment in the 'One More ..' series, and we absolutely love it already!
If you've somehow missed the other two older games in the series, then worry not! We have already covered the reviews of the previous two games, so you can pause reading this review, and go back and finish those two up!
Anyways, we are here to take a quick look at the new hit in the series, One More Bounce!
One More Bounce – Review
The basic material in One More Bounce is to master one-touch controls. The game tests your reflexes and puts them to a challenge. There are ton loads of new features that this game holds, but before we proceed onto them, let's take a look at how you play the actual game itself!
The only thing you need to do is to time your jumps. As the name suggest, your main objective is to jump this time around, and while the levels might make you a bit dizzy, there's no end to this game, hence we all love it. When you tap at an appropriate time, you will jump and catch hold of the next platform. Remember, you need to stay on the white platform, and the green one kills you. But that's not all.
You also can collect three diamonds scattered here and there in every level to prove your mastery. If not, all you need to do is just survive the level, and hit the golden coin at the end! As you proceed on with the gameplay, the levels get harder, but you also get accustomed to the game really well. There are a lot of little areas that you will need to take care of while timing your jump.
That's all you need to learn to play the game. Now, let's talk a minute or two about the features. To ensure that you never get sick of playing the game, the developers have added a mind-boggling of 70+ levels, and a set of new levels are added every month. There are a set of levels for the pros out there but proceed at your own risk, since they indeed are extremely difficult.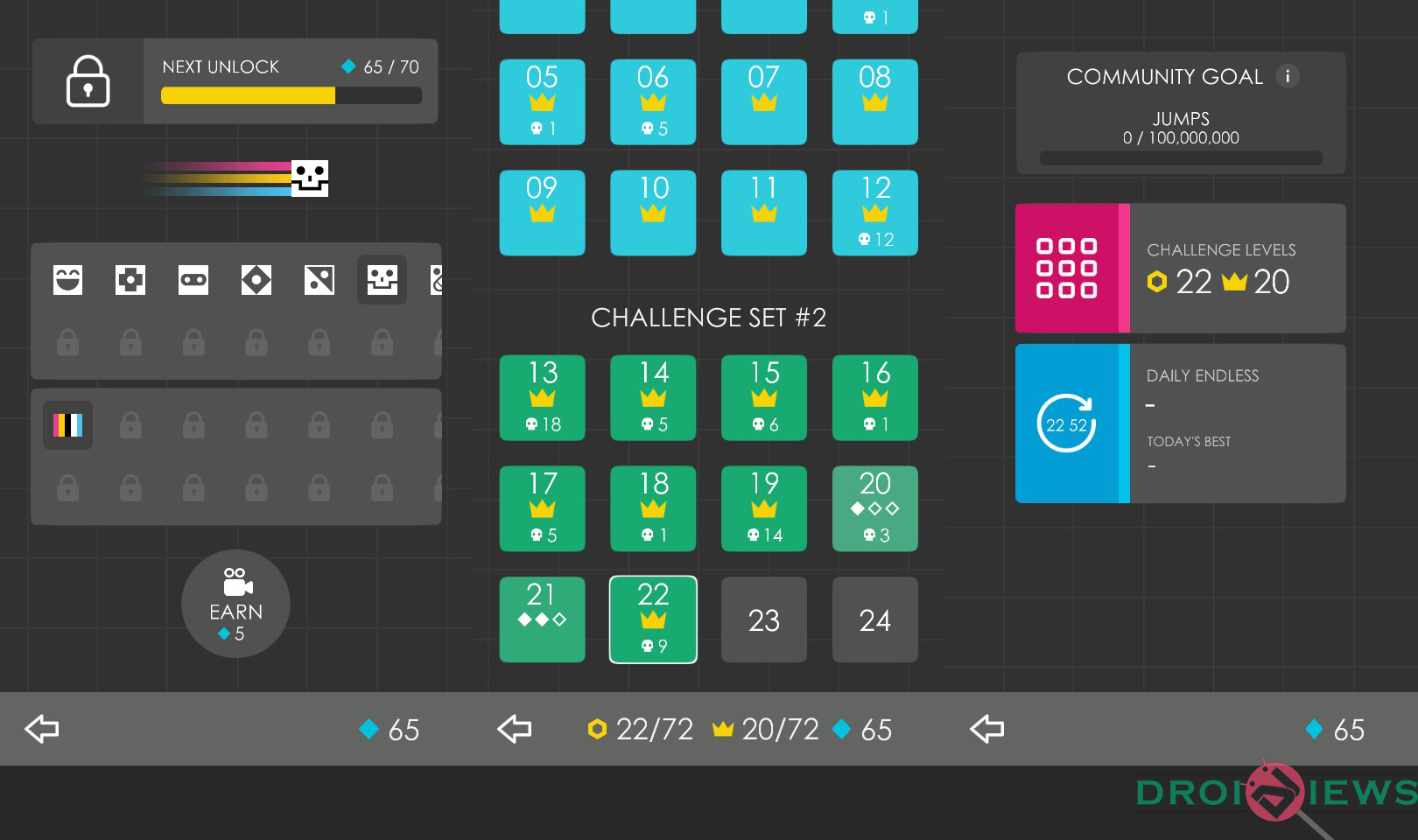 Also, there is an endless mode which adds a new level every day, and you can compete globally to break the record and set one for yourself. Finally, you can customize your character and the trail it leaves behind it by tapping the 'eye' button on the splash screen. You can collect more diamonds from the levels to unlock more and more characters and trails.
That's been it for our look at One More Bounce. It indeed is a really addicting game, and we suggest you try it out yourselves! Comment down below your high scores if you dare!
[googleplay url="https://play.google.com/store/apps/details?id=com.smgstudio.onemorebounce"/]