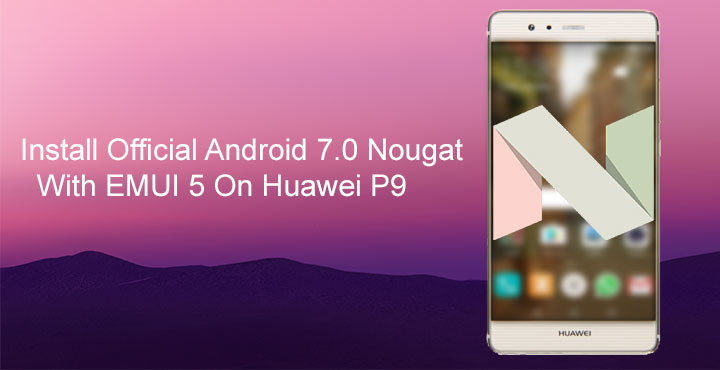 Huawei P9 was the Chinese manufacturer's foray into dual camera set ups and it made headlines thanks to the Leica branding. The last year flagship from Huawei was promised to receive an official global update to Android 7.0 Nougat by the end of March 2017. Huawei couldn't keep up with the promise, however, and months later, some Huawei P9 units are still waiting for an upgrade. If yours is among the same group, you can manually install Android 7.0 Nougat on Huawei P9 with EMUI 5.
The Android 7.0 Nougat based Emotion UI 5.0 (EMUI 5.0) brings a brand new interface which is simple, smart and powerful. Features like App twin, app drawer, smart notifications, eye comfort mode and simplified gestures make an appearance. It also includes improved system performance, customization and ensures enhanced security for user privacy, mobile payment, communication, and app usage.
Here's an unofficial change-log listing some of the more major changes.
A brand new UI and effects inspired by the blues and whites of the Aegean Sea. Simplified gestures, with most operations completed in 3 steps. EMUI 5.0 is more customizable, offering an optional Android App Drawer layout to users.
Enhanced features System operations are more fluid, allowing you to view a massive amount of images, browse websites, and perform searches faster. [Find out more]
Notifications An optimized design combines shortcuts with notifications to reduce the complexity of user actions. Touch and hold notifications to quickly block messages and notifications. Reminder cards are stacked to save space.
The recents app screen is now similar to that of stock Android Nougat instead of resembling an iOS-esque app switcher.
Customization and sharing features have been added to name cards in the contacts app. The sharing feature allows quick sharing of contacts through Bluetooth, Facebook, and other methods.
The Email app has also undergone improvements. Tagging of unread emails in the inbox is improved. Users can now quickly delete, star, and mark emails as read or unread from the left sliding menu.
Camera now supports plug-in management. Infrequently used modes, like document scan, are presented as plug-ins.
A new side drawer in the settings app.
The default home launcher now has an optional app drawer.
A new eye comfort mode, basically a blue light filter like the one found on most Android Nougat devices.
You may also like: 3 Nova Launcher Tricks You Should Know
Screenshots
Note
Do not try this on any other device. The method described below is only meant for the mentioned Huawei P9 variants – EVA-L09, EVA-L29, EVA-L19.
The process described below only works if your Huawei P9 is running on the stock EMUI 4 firmware and has the stock recovery installed.
The battery should be charged at least up to 50% to prevent any accidental shut down during the update process.
There's always the possibility of your data being wiped so make sure you have a backup.
Even though we take great care about our guides being accurate and detailed, there is no guarantee that this will work for your device. We take no responsibility for any damage to your device. Proceed at your own risk.
Downloads
EVA-L09C432B378 EMUI 5.0 
EVA-L29C636B361 EMUI 5.0  (beta) 
EVA-L19C185B387 EMUI 5.0
update.zip
update_data_full_hw_meafnaf.zip
Don't miss: Switch Recent Apps Screen on Android Nougat with OmniSwitch
Step 1
Download the correct update.zip package from the link above and extract it.
Create a folder named dload on your device's internal storage.
Transfer the file named update.app from the extracted update.zip in the dload folder.
Dial *#*#2846579#*#* from your phone dialer to open a hidden menu.
Select Software Upgrade and start SDCard Upgrade.
Select and run the update and then wait for the process to finish.
When the upgrade process is complete, reboot your Huawei P9.
Step 2
Now download the respective update_data_full_hw_xxxx.zip file from the downloads above and extract it.
Copy all the extracted files, including update.app file and transfer them to the dload folder on your phone. Replace the previous update.app when asked.
Now dial *#*#2846579#*#* again from your phone's dialer and select Software Upgrade > SDCard Upgrade.
Confirm the installation.
Wait for the installation to complete and reboot your phone again.
The first boot may take a while, but when it does boot up, your Huawei P9 should be running on the Android 7.0 Nougat based EMUI 5.