The Pixel launcher is the new home screen launcher app in the new Pixel phones. You must have already had a taste of it if you're using a CM14.1 build on your device. The Pixel launcher is quite clean and much more functional. The new app drawer, swipe up to bring up app drawer and the new App shortcuts. The app shortcuts feature is similar to Apple's 3D touch but instead of sensing pressure to bring up shortcuts, the Pixel launcher simply uses a long press.
To bring up the app shortcuts, just long-press on an app that supports the feature and a bubble menu will pop up. The pop-up menu will feature some quick options on how you'd like to use that app. For instance, if you long-press the Camera app, it will ask you whether you'd like to take a selfie or a video. Similarly, if you long-press Chrome app, you'll have options to 'open new tab' or to 'open new incognito tab'.
App Shortcuts Pinning
In the latest Android 7.1 update, you can now turn these app shortcuts into home screen icons by pinning them for quick access. To pin the shortcut of your liking, just long-press on the shortcut and then drag it to place it on the home screen. So, you need two long-presses here − One for bringing up app shortcuts and the other to select and drag the option to your home screen. You can place as many shortcuts as you wish on your home screen, even a duplicate icon.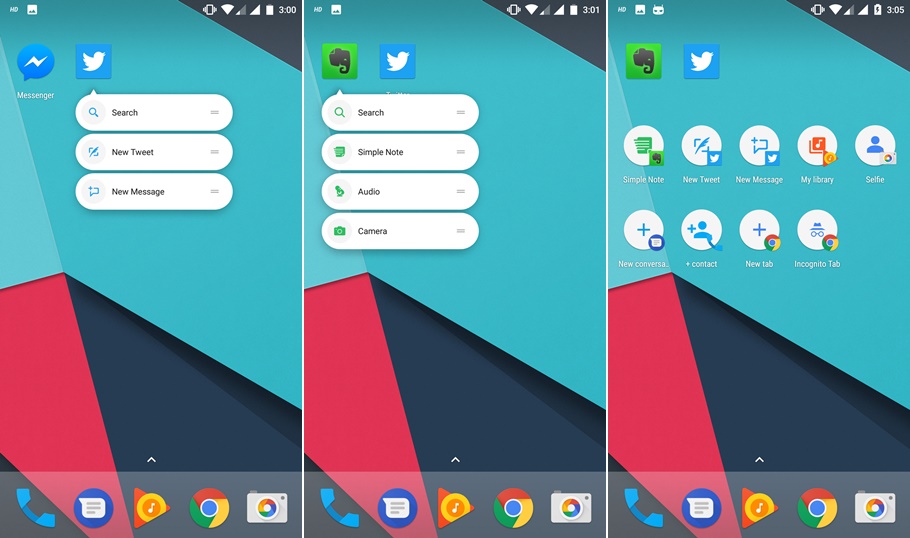 Currently, the app shortcuts are featured mostly in the Google apps but some of the third-party apps also featuring them. You can see the app shortcuts on apps like Twitter, Evernote. So, a single icon will help you write a tweet without opening the Twitter app. Find all the apps that support app shortcuts feature and make your life easier.
Let us know if you find the new shortcut pinning feature useful in the comments section below.