Phonograph Music Player, earlier known as Gramophone, is a beautifully sleek and overall aesthetically pleasing visual example of what a material design music player should look like. If you haven't heard of it, Phonograph is a music player for android that follows Google's material design guidelines with fluid animations, colors that pop and of course core music player functionality.
It may, in fact, be the most gorgeous looking music on the market today. It is in beta, but that hasn't stopped it from making an impact. Not to mention, Phonograph is completely free. For what it's worth I'd say that's a steal.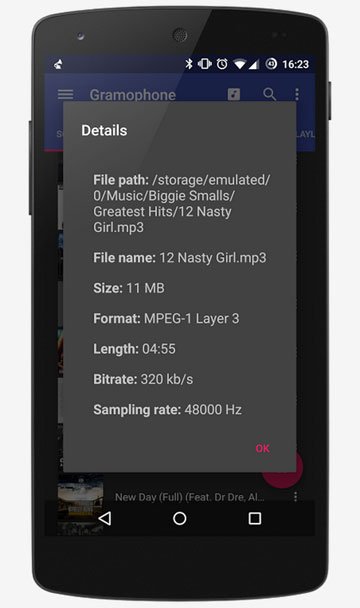 What would Phonograph be without basic functionality? Just a pretty app, but it has brains as well as beauty. It includes an equalizer, playing queue, tag editor, artist biography, artist images as well as a playlist tab and more. Not to mention the developer has done a pretty good job exterminating bugs and adding new features with almost every update. Recently the developer has added the ability to change primary and accent colors giving users the option to make Phonograph their personalized home for music.
Based on my experience, I can say that Phonograph is probably the best looking music player out there. It steals the heart with its beautiful and clean user interface. The app is easy to use and offers a lot of features without becoming overloaded menus and options. The color of the UI changes automatically to match the dominant color of the album art picture.
The app integrates Last.fm for online music streaming and lets you jobs like editing the tags of the music tracks, downloading album arts, and creating and adding playlists. Besides, Phonograph also offers a homescreen widget and lockscreen music controls for easy access.
Read Next: Hyperion Launcher Tips and Detailed Review