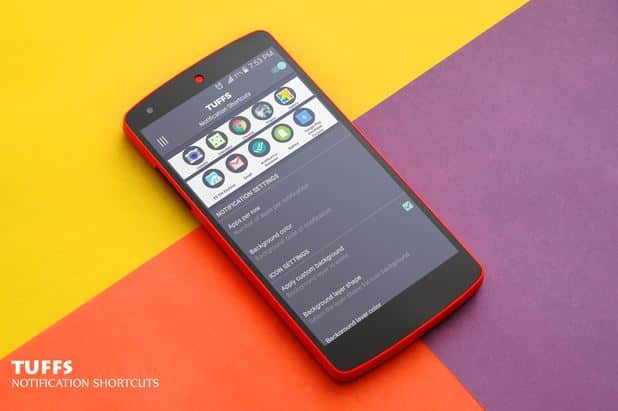 We use our smartphones a lot; be it for calling, texting, browsing the Internet, or gaming, one device can perform multiple tasks. Phones have really become smart. If you perform all those functions then you must be familiar with the term "multitasking".
Simply put, multitasking means switching between multiple apps quickly and efficiently.
The multitasking (or overview) button that comes in the device is pretty good but if you, somehow, don't like it or would like to use any other way to switch between apps, few very good apps are available in the Google play store that let you do so. TUFFS Notification Shortcuts is one of them.
TUFFS is fairly new. I came across it few days back and found it efficient and effective.
Unlike other multitasking apps, TUFFS lets you pin some apps and shortcuts on the drop-down notification panel that makes it easy to switch between your favorite apps.
After launching the app you'll see few options that will help you configure the app to your liking.
Tapping the home option lets you add apps and shortcuts in the notification panel along with customizing the app row. You can customize the app row with options like how many apps you want in a row, background of row, icon background, shape, and color, etc.
You can also see live previews of the changes you made on the top of the screen. On top of the preview area there is a switch that enables or disables TUFFS form the notification panel.
Features like enabling multiple rows, auto restart on reboot are available through in-app purchase.
Various color theme are also available in settings menu to change the colors according to your liking.
Conclusion
TUFFS is a very well designed multitasking app that follows Google's material design. By putting shortcuts in the notification panel it also makes switching between apps easy. I could easily recommend this app to anyone who is looking for a way different than the overview button to quickly switch between apps.