We have already covered our impressions on MoboMarket PC version back in June. Within in couple of years MoboMarket engraved its name among top Android app stores. For those who are hearing MoboMarket for the first time let me tell you that, it is the best third party app store with inbuilt mobile management. My experience with MoboMarket PC version was just incredible and it's time to review the Android version.
The UI is redesigned and is much more user friendly now. The default screen takes you to the Focus section from where you can choose a detailed category. Must say that Mobo team gets your thoughts digital through this section. It takes very few taps to get to a screen which helps you save your precious time. In this category the Apps are listed accordingly with all the necessary information like app size, ratings and number of downloads.
The next dedicated section is for the gamers. The Games section displays well-picked and addictive games right in the shelf. Frankly, the games section in Play Store is not active. Trending and Top apps in the Play Store are mostly constant, but things function different here, MoboMarket frequently shuffles the creamy layer of games so that the gamers can unveil their true gaming skills.
Curiosity always finds its way in our lives, so the team introduced a Discover section for such app-hungry users. This section offers you the collection of wallpapers, hottest apps and various other apps.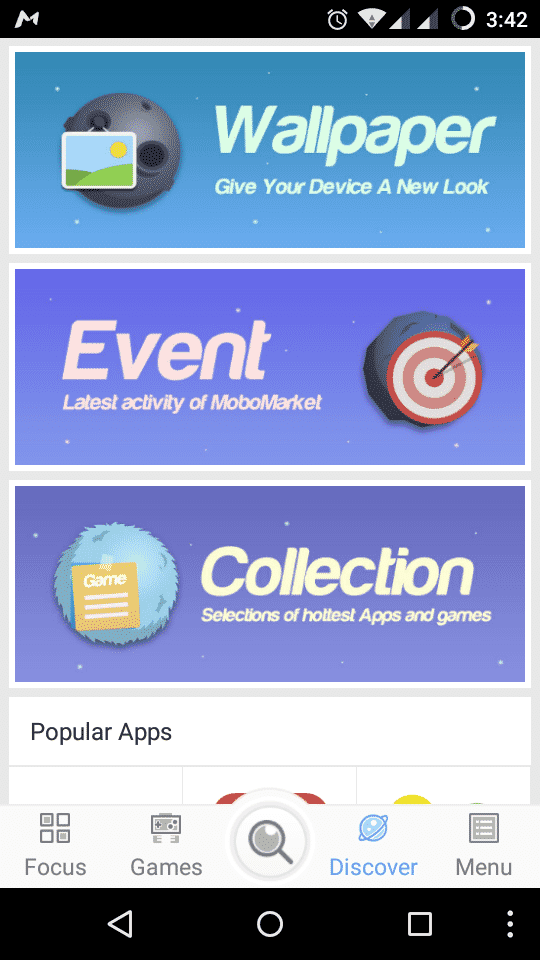 Everything you expect a store to do, MoboMarket check lists every single exigency. In addition, the team has put efforts to provide an inbuilt management system in the App. The inbuilt managing system is largely successful. It has bunch of resource right from the download manager to system optimizer.
Users can also enable the power saver feature from the menu. Last but not the least the search option is elegant and very precise.
The latest 4.0.5.8 update took MoboMarket to the whole new level. The App is more responsive and swift now. Here is the change log for the latest version.
Brand new well-designed UI as well as improved user experience
Bug fixes and stability enhancement.
Improved the initialization speed of MoboMarket
Hindi and Chinese (Traditional) are now supported
And much more…
So what are you waiting for? Head down to the link below and avail all the features from MoboMarket.
Download MoboMarket for Android
Can it restore the Play Store in the coming days? Throw some light on that. Do share your reviews on MoboMarket in the comments below.