I currently own a Motorola Moto G 3rd Generation and it came with stock Android. Over the year, Google has improved its OS a lot but it still lacks an important thing – a file manager. Stock Android doesn't have a file manager.
That isn't a big problem though as Google play store is filled with tons of amazing 3rd party file manager. You may already know about a few popular ones like ES File Manager and Androzip. I guess it was last month when I shared another awesome file manager called Cabinet.
In this article I am sharing another awesome file manager called MK Explorer.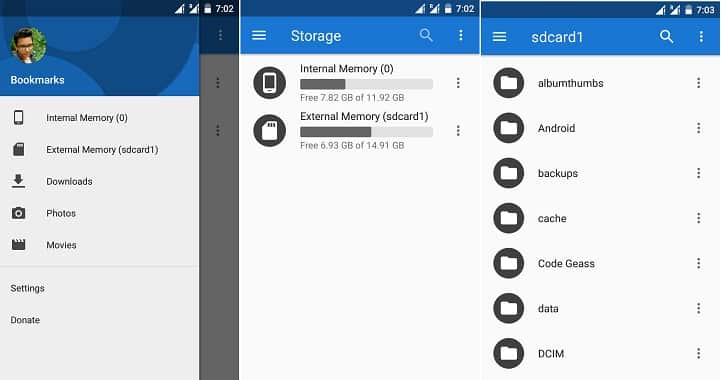 MK Explorer is a lightweight file manager that comes with material design. Now, as the title says this app is for those users who don't want advanced features like cloud sharing, samba sharing, remote access, and all that stuff. It's a simple file manager that performs all the "basic" functions flawlessly. In a lot of aspects, it's like Cabinet.
You get all the basic features like copy, paste, delete, move, extracting ZIP and RAR files, compression to ZIP. These are the functions that I use so I am really happy with this app. It also supports root access, in case you were wondering about it. While testing, it executed each and every function without any problem.
I've been using ES File Explorer for a year now. But I liked MK Explorer so much that I made it my default file manager and kicked out ES File Manager. I'm not saying that it's better than ES File Manager but that doesn't mean it's bad. ES File Manager has some features that I don't use at all and it was taking around 50-60 MB of my storage. That is not a lot but since I don't use file manager regularly and MK Explorer only takes around 8 MB and has all the features I need, even 50 MB seemed a lot.
Now about the user interface, the panel that appears when swiping to the right contains app settings and links to various folders. If you want, you can add or remove new shortcuts there.
Another cool thing about it is that it supports two panels i.e. two folders can be accessed from the same screen. To open a folder in second window tap on the menu button (three dots) right next to a folder and tap on "open in the right window".
So that's MK Explorer. I'm planning to keep it as my default file manager for sometimes. I just hope that the developer doesn't start adding more features which will make it a pain to use.
There are a lot of file explorers in the Google play store with advanced features but there are only a few that focus on simplicity and ease of use rather than stuffing everything in one app. MK Explorer belongs to the former category.
Do check it out and then share your thoughts with us in the comments section below.
[googleplay url="https://play.google.com/store/apps/details?id=pl.mkexplorer.kormateusz"/]