Android phones are basically divided into two categories- low-end and high-end. Low-end phone features specs like 1 GB RAM and 4 GB ROM. And high-end is, well, high-end.
Although majority of Android user base is using a low-end phone, many developers make apps suited to take advantage of high performance devices like the ones they use. They make apps with flashy animations and unnecessary features, neglecting the low-end user base.
Apps help you stay connected and can improve your daily efficiency. Apps are fun to use, as long as they don't eat up all the storage space of your device. But just because your device lacks better storage doesn't mean you can't use fun apps. In this article I'm listing lightweight alternatives to most of the storage-hungry apps.
1. Holo Launcher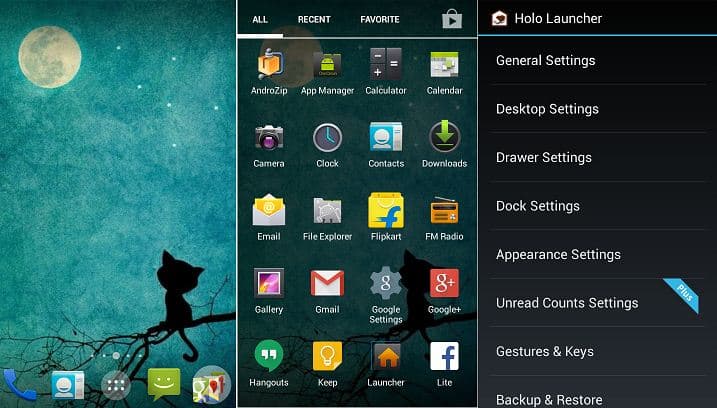 Holo Launcher is a very lightweight home screen replacement app A.K.A launcher. It is based on KitKat, and is small in size (just 1 MB) and it has very minimal RAM consumption. It has almost all the basic features that one can expect from a launcher like gestures, app hiding, resizing grids, etc. I'm using it as my default launcher for months and never faced any kind of lag.
You can also try Smart Launcher 3 if you want a unique UI. But I'm not using it as it doesn't show apps stored in SD Card from time to time in my phone.
2. Facebook Lite
Official Facebook app eats up 100 (s) of MB of your storage. That's the fact that no one likes. It used to freeze my phone every now and then. Fortunately, Facebook has finally launched an alternative called Facebook Lite. It is very much like the original app but very lightweight and can be used easily on a 2G connection. It is small, fast, nice looking, and doesn't eat up space. It's only around 250 KB.
Another alternative is Tinfoil for Facebook. It acts as wrapper for mobile site of Facebook. It creates a sandbox for Facebook's mobile site in order to protect your privacy and to avoid the ability of others to track your browsing history.
You can also use mobile version of Facebook in your web browser.
3. Pinhog
Pinterest is another hugely popular social media app. Although the official Pinterest app doesn't take a lot of space, it drains battery real quick. Pinhog is a great alternative if you are facing the battery drain issue. Feature set includes offline viewing by pre downloading the pins, scheduling pin download, repin, like, comments, sharing, setting images from pins either as live wallpaper or static wallpaper, pin filtering, and more. Elegant!
4. Naked Browser
To be honest, naked browser is the ugliest browser you can find in the Google play store. But that is good. Why? Because the developer put resources where it counts.
Chrome and Firefox (to name a few) are very good looking but are very slow. Naked browser is fast and has tons of features. It doesn't spy on you and it is ad-free. Feature set include crash restore, undo closed tabs, infinite tabs & more. While testing the app, I opened 20 tabs and it didn't lagged at all. If you can sacrifice looks for features, than Naked Browser is the best browser for you. For a few bucks you can also buy the pro version with more features.
5. Tweedle For Twitter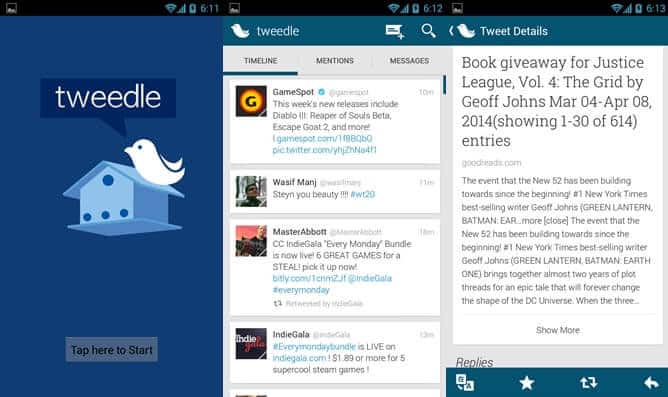 Like the Facebook app, official Twitter app also drains a lot of battery by constantly refreshing the feed. Tweedle, an alternative to Twitter, runs smoothly, consumes less battery and has a clean interface. Tweedle makes Twitter simple and beautiful. It's not available on the Google play store anymore, you can download it here.
You can also use Tinfoil for Twitter which acts as a wrapper for mobile site to protect your privacy.
6. Weather
Majority of weather apps provide information which is not quite useful to everyone. I mean, do you really need to know the wind speed, sunset time, sunrise time, and other stuffs like that? If no, then Weather by MacroPinch is the app for you. Weather lets you track the weather at your current location, in any other location, and check upcoming weather forecasts.
7. Pixel Player
Pixel Player is a material styled quick and lightweight music player that has got both looks and features. Its feature set includes album cover art downloader, ID3 tag editor, lyrics download, gapless playback, and more. In the pro version you can get some more features like folder tab, blacklist, and hide/show tabs.
8. CloudMagic Email
Mail apps can easily drain battery because of the constant sync and incoming emails. Cloud Magic is a great alternative for official Gmail app. It is not a lightweight app but it is battery friendly as compared to other mail apps. It lets you manage all of your email accounts in single app. It works with Gmail, Exchange, Yahoo, Outlook, iCloud, Google Apps, Office 365 and any IMAP account.
9. Multiling Keyboard
Multiling could be a great SwiftKey and Fleksy alternative. Both of these keyboards are very good at what they do but are they memory hogs. Multiling is free, small, customizable, and doesn't require much permission.