Is it going to rain today? Do I need my umbrella? What about a raincoat? You don't have to be confused. Simply take out your smartphone, fire up that weather app, and it is done. Google play store is filled with apps that tell the weather. But wait, what if you don't have a weather app? I guess that's why you are reading this article. Either you don't have a weather app or you are looking for an alternative to your current weather app. Enter TrueFeel!
TrueFeel is clean. That is the first thing that came to mind when I launched it. It is adorably clean. And the colour combination here is really amazing. Probably one of the best I have seen in recent times. I don't know why I am liking the colour so much. I mean it's nothing new or unique but still the way everything is presented is awesome.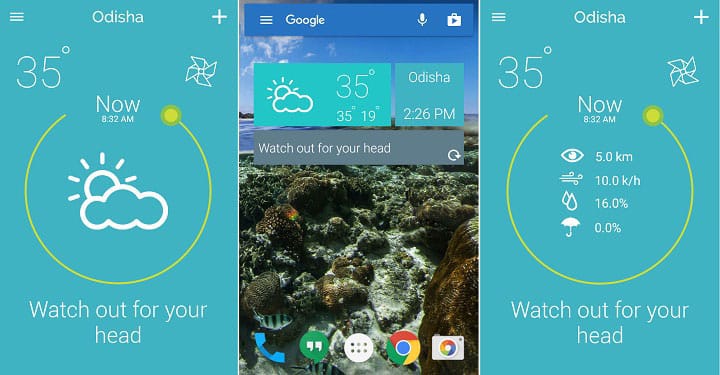 Now, this app is slightly different than your regular weather apps. How? Well, as the dev says "TrueFeel shows the true feel of the weather in readable meaningful words rather than only listing the weather data in numbers". You know how all the weather apps just show some numbers for humidity, the wind, pressure and all that stuff? That's cool and informative. But what TrueFeel does is quite awesome. It analyzes all the stuff in the background and then gives you a statement.
As you can see in the image above that it was hot out there – 35 degree Celsius – and the app made the statement "Watch out for your head". Now it's not something that one can't deduce by oneself but presenting that statement kind of gave the whole weather checking procedure a personal touch and I liked it.
If you are into the detailed stuff then tapping on the centre of the screen provides you with all the detailed information regarding the current weather. Some other useful features include the option to save up to 5 location, a nice little widget, and weather info for the next 7 days.
Alright so I have been using TrueFeel for more than a week now and I kind of dig the app. It's cool, it's simple, shows the temperature, and does all that while looking good. I am not a heavy weather app user so I guess this app suffices all my weather needs.
Have you tried this app yet? Did you like it? What is your favorite weather app? Tell us in the comments section below.