All Android devices have a default messaging app. However, if you have looking for a better alternative SMS app for you Android device, you should give a try to QKSMS.
SMS messaging is an important part of mobile communications. Even if Internet Messaging services nowadays represent an easy and fast way of communication, SMS service still holds its ground strong. This is mainly due to the fact that it is available everywhere with mobile network coverage (even if this is in the form of the old 1G network). Messages are guaranteed to arrive a few seconds after they are sent, as long as the recipient has their device powered on.
Android has been trying hard to provide an appealing stock SMS messaging App since its first releases. On latest versions of the Operating System, SMS App feels similar to an Internet messaging App:
However, like most stock Apps, SMS App on Android smartphones and tablets usually provides only basic functionality. Users that need more features turn to third-party Apps. If you are that kind of user, you should definitely try out an interesting SMS messaging App known as QKSMS.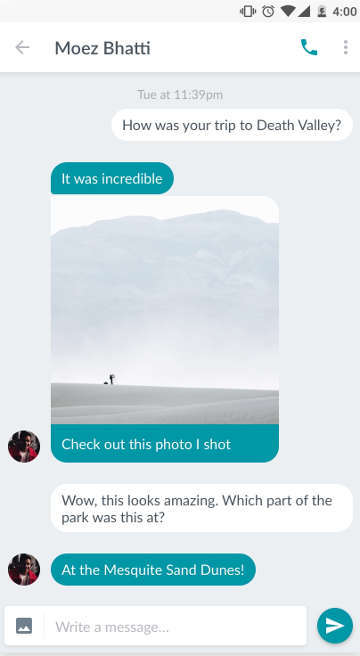 QKSMS Features
QKSMS feature list includes the following:
Clean, Material-Design based User Interface
Theme support using a great variety of colors.
Per-conversation theming is also available.
Night-Mode support, including automatic cycle between day and night modes.
Written in Kotlin, it struggles for a fast and responsive User Interface.
Prioritize messages using per-contact notifications.
Share photos using MMS.
Join multiple contacts into group conversations.
Blacklist phone numbers and block conversations. In addition, you can filter out spam with Should I Answer? integration.

Easily respond to SMS messages using a special popup, or from the notification shade (requires Android 7+). Support for replying through Android Wear is also available.
Delayed responses: Schedule SMS replies at a specific time.
Last but not least, QKSMS is a completely Open Source (GPL v3) App. Unlike other third-party SMS messaging Apps, you can rest assured that your SMS Messaging App does not use the Phone Android Permission in any way against you. Access to the full source code is available for everyone to study and review.
The developer behind QKSMS appears to consider community feedback a lot. They try to reply on all comments on the Play Store and implement feature requests. The project also supports bug reporting (through its Github page), in an effort to make it as stable as possible for everyday usage. You can get QKSMS through the Play Store, through F-Droid, or directly via its Github repository.
Note
The latest available version of QKSMS at the time of writing (3.0.9) seems to miss some features of the previous versions, including delayed replies, custom icons and some personalization options. However, as mentioned above, the developer acknowledged the feedback received from the community and is planning to add these features back in later releases. In the meantime, you can get a previous version of the App by visiting its Github page.
Finally, If you like QKSMS, you could consider donating to its developer, to keep the development going.
Links