Locking and unlocking your devices could be a tedious task, especially if you do it very often.
Say, you want to hide your photos from prying eyes, what you do is lock the whole device instead of locking that particular app. Or if you are super uncomfortable in sharing your photos with others, you'll put a lock on your device as well as that app. Trust me, I've seen a few guys like that.
It actually doesn't make sense to lock the whole device if you want to protect only a few apps. To solve this problem, the concept of app locking was born.
App lockers let you lock apps without locking your device. With such apps, you don't have to put the pattern or pin every time you want to launch your game, but you can be sure that your text messages, emails, and bank information are safe from unwelcome visitors. One such app is Hexlock by Liquidum.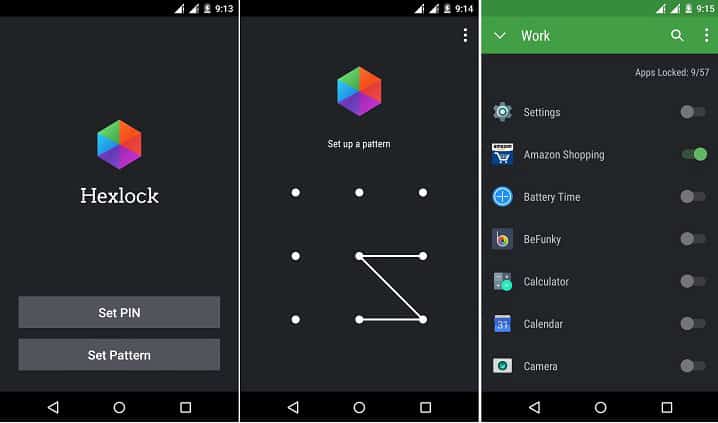 Hexlock is super simple to use. It serves only one purpose and that is to lock the apps and it does that perfectly. One thing which I liked a lot about it is it's not complicated. I think that's the biggest complement a utility app can get.
Hexlock has nothing to distract you. The first thing you do after launching it is set a pin or pattern and start locking apps. The pattern or pin that you set will be used to unlock all the locked apps.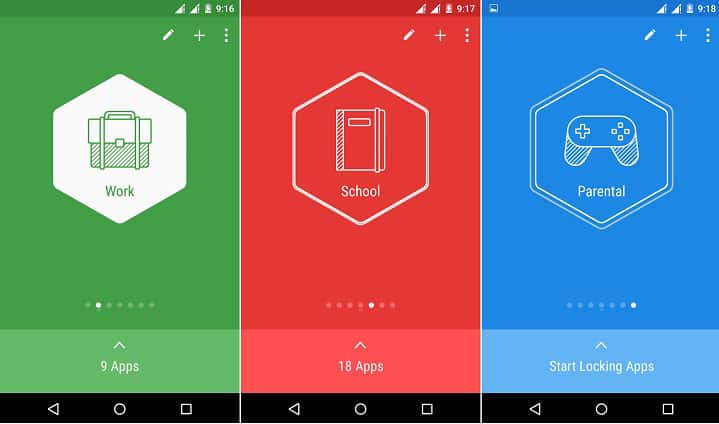 The first big feature of Hexlock is, it has Profiles. It has 7 profiles in total – home, work, cafe, parental, school, party, and off. These profiles are customizable. You can change the name of each profile the way you like. You can select a number of apps for each profile and activate these profiles as per your convenience. Like, when I'm at college, I share my phone with a couple of people when required. They usually take my phone because their phone's dead and they have to make a call. But sometimes after they are done calling, they go through my phone and start checking out my stuff. This is not acceptable. Hexlock comes helpful in such situations. I have already added few apps which I don't want then to see – Quickpic, Google Hangouts, Facebook Messenger, and WhatsApp in my college profile. Whenever someone asks for my phone, I simply activate college profile in Hexlock. Now no one can access these selected apps while other apps will launch without the need of a code. Profiles come handy when you want a particular set of apps locked while you're at school, a different set when you're at home, a different set when you're at school.
All the profiles are quite self-explanatory. If you want to deactivate all the profiles at once and unlock all the apps, all you have to do is swipe all the way to the left and choose "Off".
Another cool thing about Hexlock profiles is that it will automatically switch profiles based on the Wi-Fi connection. For example, when it detects your phone is connected to your office Wi-Fi, it will activate the work profile and deactivate it once you leave that Wi-Fi area.
Hexlock also shows a pop-up notification asking you to lock the app whenever a new app is installed.
One thing which I think is worth mentioning is that you should give Hexlock device administration access. It's quite common for intruders to uninstall the app locker and get access to all the locked apps. But if you give Hexlock device administration access then it will be difficult to uninstall it. To do so head to Hexlock's settings and enable " uninstall prevention ".
Hexlock has a persistent notification in the notification panel that lets you see which profile is activated and how many apps are locked. Tapping on it directs you to profiles section of the app, here you can change the lock profile.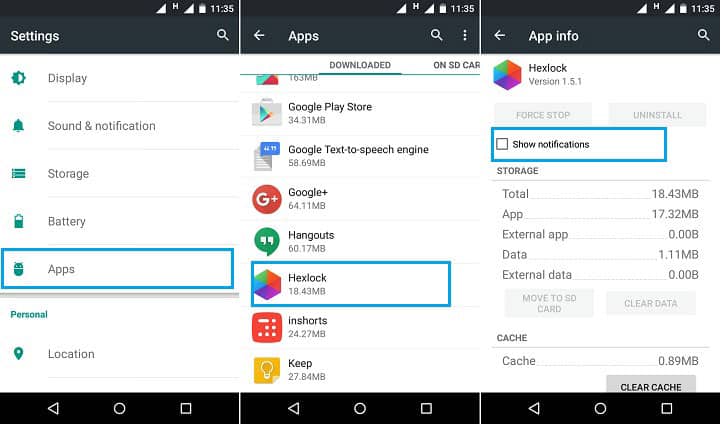 If you don't like to see the persistent notification, you can always disable it by going to the settings menu. To disable it, long press the persistent notification and then tap on the circular icon on the right. Now you'll be redirected to the notification settings for Hexlock. You can disable it from there. It can also be done by going to your phone's settings > apps> Hexlock and uncheck " show notifications".
Now that I've covered all the things it does to protect your privacy, it's time to talk about its pricing. Hexlock is free to download from the Google play store and is ad-supported. Although the ads don't interfere with the usage, you can disable the ads completely and support further development of Hexlock by making an IAP of $1.07.
After using Hexlock for few days, I can say that it is one of the best app lockers for Android at present. I liked a lot of things about it, especially the lock profiles and that sleek animation around the hexagons that happen while switching profiles.
Now we would like to hear from you. What are your thoughts about Hexlock? Have you used it? Did you like it? Do you use any other app locker? Do tell us about it in the comments section below!
Download Hexlock-App Lock Security