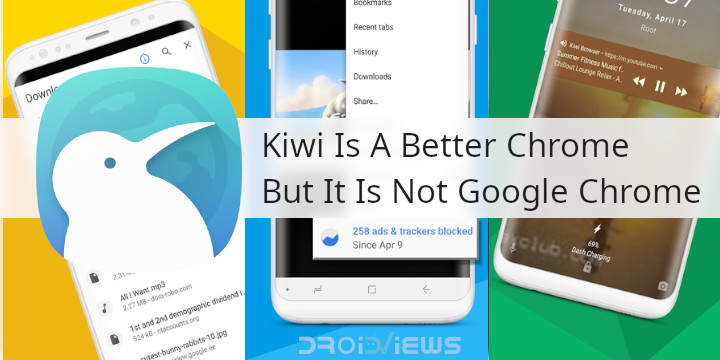 As you may be well aware of by now, Google Chrome, for Android, Windows, Linux, or macOS, is based on the open-sourced Chromium project. Chromium is still developed by Google, but it lacks the Googliness of Chrome. Chromium acts as a platform for both Google and third-party developers to build upon. There have been many Chromium-based browser projects for PCs and even Android. Microsoft's Edge on Android is a good example. Kiwi Browser, a relatively new entrant in the Android browser space is also based on Chromium.
There's a slight difference here though. While most browsers are built upon the stable version of Chromium as a base, Kiwi is built atop Chromium Canary. For those not in the loop, Canary is the version of Chrome and also Chromium, where Google pushes out updates the fastest. This translates to the least amount of stability out of any version of Chromium, including Chromium dev and beta.
Kiwi is fairly stable, however, as you would expect from a browser. It may be based on Chromium Canary but Kiwi is pretty much as stable as Chrome. Not only that, Kiwi is also fairly quicker than Chrome is most aspects. The developer claims to have "added lot of crazy hacks inside WebKit" and we can say it shows. Since it is based on the latest Chromium code base, it has all the latest features found in Google's latest Chrome Canary builds minus the stability issues.
You can also enable the split toolbar that you cannot yet enable on the stable version of Chrome for Android. The best feature from a YouTube user's standpoint is the support for background playback. Chrome doesn't allow this lest you get YouTube Red features for free. Kiwi has no such ulterior motives. The background playback feature works not only on YouTube but on any website such as Vimeo or Facebook. There's also a crypto mining blocker that helps keep cryptocurrency jackers at bay.
There's also a pop-up blocker which determines whether a new tab should be opened or not instead of blatantly blocking all pop-ups, regardless of their nature. It isn't very accurate, however. Below is a complete list of features as described by the developer himself.
Another area where Kiwi beats Chrome is the presence of a Night Mode which as you can guess turns everything dark. This includes not only the browser interface but also the page background of the websites your visit. The result is not always pretty to look at but it is still better than not having a night mode at all.
Features
Speed improvements
Background play for YouTube and other websites
Cookie acceptance

Automatically accepts GDPR compliant pop-ups.

Notifications blocker
Cryptojacking blocker

Saving battery and prevents phone from heating.
Try it on http://www.coinhive.com (you can re-enable crypto mining in chrome://flags if you really like it for some reason )

Popup-blocker 

This is not the usual popup blocker, there is a heuristic inside to browser to determine whether the new window should be opened or not.

Adblock & Tracking protection

The browser offers much better privacy protection than Chrome and Brave. It blocks also a lot of ads. Not really because ads are bad, but mostly to make the browsing fast.

Night mode
Parallel downloads
Android 4.1+ support for both ARM and X86
Don't miss: Fastest Android Web Browsers at the Dawn of 2018
Missing Features
So far the story has been about all the ways Kiwi Browser is a better alternative to Chrome. The grass isn't always greener on all sides though. If you're heavily invested in Google's ecosystem and like all your bookmarks and history synced across devices you'll be disappointed. Chrome sync is something Google keeps to its Chrome browser and doesn't allow third-party developers to use. It makes sense from their point of view.
Big names such as Microsoft can provide syncing features using their servers but a small developer probably can't. moreover, the Data saver feature from Chrome is also missing for the very same reasons. Chrome's page translating feature is also missing here but the developer is working on solving this problem.
Chrome Sync
Data Saver
Translate
Verdict
Kiwi is open-sourced and free to install and use. It excels in many areas compared to Google Chrome. It is faster, based on the latest Chromium code with a refreshing UI, and it even allows background playback. Despite all that, many users probably won't be switching anytime soon because it is not Google Chrome. If you're dependent on cross-device and cross-platform syncing and aren't a fan of Google, you're better off going the Mozilla Firefox route.
If you don't care about sync, Kiwi is the browser to switch to if you still want the Chrome experience.
[googleplay url = "https://play.google.com/store/apps/details?id=com.kiwibrowser.browser"]
Recommended for you: 5 Android Browsers with Dark Mode/ Night Mode