Diving into the Google play store and looking for that one music player which suits your need is difficult. Generally, most of us don't even use a third party music player. A lot of people are happy with the stock music player. But the stock music player lacks a lot of functionality. Thanks to the awesome devs, we have plenty of options to choose from.
Two of the famous music player, as of now, are Musixmatch and Poweramp. But Musixmatch stutter and freeze on my device ( I've got an old device). And Poweramp is paid app. So I searched for an alternative and I found Jair Music Player. This may just be the most polished free music player available on Android. It's got minimal UI and all the features which one looks for in a music player.
Jair does not offer much in terms of innovation but this does not mean it lacks in feature. You can do pretty much everything that you'd expect to do in a music player, say, browsing music by categories, playlists, queue, cover art, sleep timer and such. Jair player focuses on providing everything without any hodgepodge.
Features
1. Material UI And Themes
Jair has got the one of the most awesome yet simple UI I have seen in any music player. It completely follows the material design with colorful user interface and sleek animations. It comes three main themes- dark, pure dark, and light. Plenty of color themes are also available which are easy to apply.
2. Category Browsing, Recent Tracks, Favorites
This is nothing innovative but it's a necessity in any music player. Various categories like list of all songs, genre, playlist, folders, artists, and albums are provided to make browsing music easy. All of these categories can be accessed by a simple right swipe on the main screen.
Recent tracks is something I use often and is also available in Jair player. It makes continuing music experience from where I last stopped so easy. Another common feature is favorites which lets you save the music you love in a separate playlist. Press the heart shaped icon on the top which is available in the currently playing page to save a song as favorite.
3. Lyrics And Album Art Download
While playing the song if the meta data is correct then the player can fetch lyrics of the currently playing song. Although to use this feature for the first time internet connection if required, after that lyrics can be viewed without any Internet connection. If the song is missing cover art, Jair Player can download it from Last.FM.
4. Widgets
Jair Player comes with 2 widgets ( 4×1 and 4×2) that shows currently playing music and playback controls. A widget designer is also available which lets you change the color of widget and texts.
5. Lockscreen Controls
When your phone screen is in lock mode, you can still go back, forward, or play/pause without needing an unlock. This feature only works on ICS+.
6. Sleep Timer
Set a custom timer that counts down and stops music playback when it reaches zero.
7. Equalizer
Jair Player comes with a 5-band Equalizer. It also has custom made equalizer settings fit various music genres like heavy metal, pop, jazz, etc.
Some other features include gapless playback, ID3 tag editor, visuals, last.FM scrobbling, etc.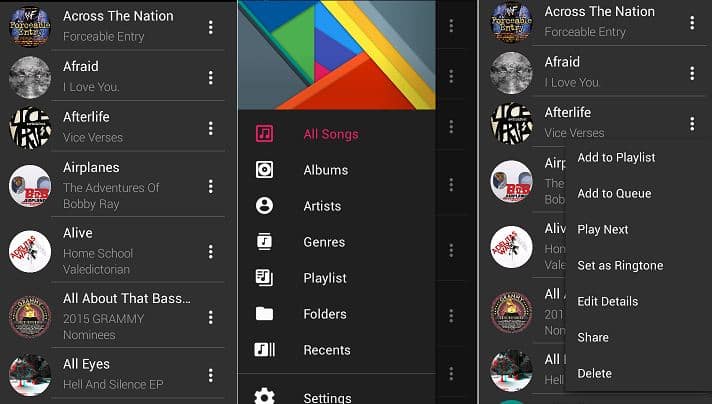 Conclusion
So, time for final verdict. Jair player offers everything one looks for in a music player. It is completely feature pack, nothing innovative though, but it offers a satisfactory music experience. It is a simple and extremely polished music player. It doesn't even freeze on my old laggy device. What can I say more, it's my default music player.