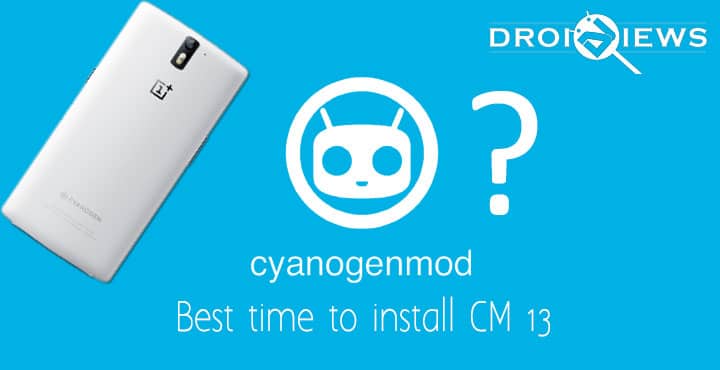 Releasing the custom ROM for the latest version of Android is always a race among custom ROMs because the first one to release takes away all the hype is considered to be the most robust and proactive Android development team among users. Cyanogen, Paranoid Android, and others have often taken credit for the fastest and most stable switch to the latest Android.
Earlier this year, we saw Cyanogen started rolling out CM 13 ROM for Android 6 for some major devices including the much famous Oneplus One. We have not tested Android 6 for any other device yet. With this post we intend to notify early adopters of certain issues [tested and found in the Oneplus One].
Cyanogen seems to have compromised on stability & bug-resolving in the race to release Android 6 on supported devices. Previously running NIGHTLYs based on CM 12.1 [Android 5.1.2], the Oneplus was bug-free, stable, fast with steady battery consumptions. However, upon updating the device with LineageOS / Android 6, based on instructions on the official Oneplus forum and Cyanogen tutorial, we are facing the following issues on the device:
4 – 5 Hang-&-Reboot cycles per day
Literally, the device hangs and reboots 4-5 times a day on average.
Rear video recording in stock camera not functioning:
Photos are being captured smoothly, but video camera won't activate.
Front video recording in stock camera not functioning
Photos are being captured smoothly, but video camera won't activate.
Battery charging & drainage
Battermarshy takes a long time to charge and depletes fast. The depletion might be due to frequent restarts but longer charging times are still unexplained.
We have tried resolving this by updating the NIGHTLYs every few days but even 2-3 weeks later, almost all the problems persist. Of course, some can be resolved. For example, installing a 3rd party video camera will resolve the video recording issue on both the rear and front cameras. However, there has been no workaround so far for the constant reboots which at times can get very irritating [in the midst of calls, chatting, games, etc]. We even tried to do a clean flash of the latest nightly to ensure that there weren't any prior flash files causing the issue. But the problem seems to be in the NIGHTLYs of the CM 13 as of now.
The appearance, functioning and usage apart from these is smooth and bug-free for now. If any of the above are a concern to you, its better to be patient when positive reports start coming in for CM 13 on the Oneplus.
If you encountered any other issues of CM 13 on your OPO or any other CM 13 running device, do let us know. If you have managed to find a workaround, share it with us.
Tested on:
Device: OnePlus One 64 GB [bacon]
LineageOS version: NIGHTLYs 23rd Nov onwards up to 25th Dec 2015