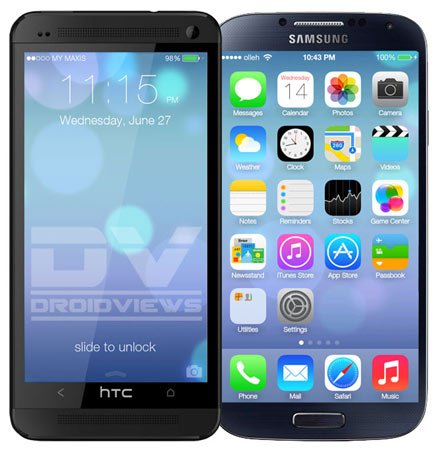 Most hard core Android fans consider it infidelity to the green bot to have a point of admiration for iOS. I have heard several people proclaiming on social media sites and different forums that they "hate everything iOS". Despite of the great number of Android users who stand partisan against iOS, there are still many who own an Android device but have a soft corner for certain things about iOS. At least the popularity of  iOS-based themes point to that.
It is this attraction among users of Android that prompts some developers to come up with iOS inspired apps and launchers to give users a near-iPhone like experience on their Android devices. Apple has already released the latest version of its software for its devices a couple of days ago. Following the modern trend of simple, flat and clean user interface, the company has made a positive move by infusing these things in iOS7 which certainly looks a lot better that its older versions.
If you like the interface of the iOS7, and wish to enjoy its look and feel on your Android device as a little deviation, there are a bunch of apps that might help you achieve them pretty easily. All you need is to do is to download and install some free apps from the Google Play Store and we are here to list some of nice apps for you. Having installed these apps on your Android device, you'll be able to get not only a look resembling to iOS7 but also be able to enjoy similar functionality.
Download the following apps and get ready to get a punch of iOS7 on your very Android device in no time.
Note: When we tested the Espier Launcher iOS7 on HTC One, it did not give the desired look. Rest of the apps, however, worked fine.