Two years ago, Google introduced its first wearable platform for wearable devices. During Google's I/O 2016, the search giant unveiled the first major update to Android Wear. Let's take a look at what's changed.
Standalone apps
One of the major changes to this platform is in its dependability. Android Wear needed an Android Phone paired with it to get notifications and even run apps. With Android Wear 2.0 it becomes independent, meaning that smartwatches don't need an Android phone as a companion.
With the support of Wi-Fi, Bluetooth, and even cellular connections, Android Wear 2.0 can now install and sync Wear apps independently.
New UI
Google has redesigned Android Wear's launcher and notifications, making the platform more responsive and intuitive.
Starting with the darker user interface, Google wants Android Wear to take advantage of OLED screens used on most smartwatches. With such a small battery in these devices, a darker UI will most probably save some battery.
The new carousel app launcher of Android Wear is easier to use compared to the first iteration and also takes advantage of the round display's screen real estate much better.
Complications API
The Complications API is something Wear app developers will appreciate. For the common user means more customization for watch faces and better accessibility to certain apps.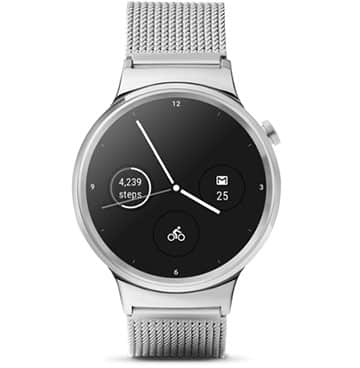 This basically allows apps to add data directly to watch faces. For example, if you have calendar events and you want to see when the next one is, you can add a "complication" to your favorite watch face that will show you just that.
New input methods
Another major feature that Google introduced to Android Wear 2.0 are the new input methods. This means a full-fledged keyboard was added with Swype-like capabilities and a handwriting recognition mode that allows you to draw letters directly on the screen. I don't know if a full keyboard will be something as easy to use compared to voice dictation, but we can only wait to try it out.

Google Fit
One of the major reasons to use a smartwatch is to keep track of your sports activity. Google improved Wear's Fitness capabilities by making it easier for apps to collect and use fitness data and detecting what users are doing.
Check out the Google's video featuring some of these changes:
For now, Android Wear 2.0 is available to LG Watch Urbane 2nd Edition and Huawei Watch. More watches will be added later on.
You can already download the Developer Preview if you have one of these two here.