The LG V30 was launched late last year as the second LG flagship after the LG G6. The device shipped with Android Nougat out of the box but an Android Oreo update was promised. After several months of wait, the Oreo update is rolling out to a number of LG V30 devices. If you're already enjoying a custom Android Oreo ROM or haven't received the OTA yet and can't wait, you're in the right place. You can thank ChazzMatt, autoprime, and jonzey231 who've made the KDZ files available for download. These KDZ files can be flashed using the LG UP tool. Using the method below you can install the official Android Oreo update on LG V30.
There are currently only two KDZ files available for two variants of the LG V30. These are the US998, the unlocked US variant of the V30 and H932 which is the LG V30 sold by T-Mobile. Official firmware can be flashed on LG smartphones using a number of tools. We will be using the LG UP tool to flash these KDZ files in this tutorial because that's how you flash KDZ files. If you've never done this before it might not be a bad idea to proceed with caution and take your time to read through the instructions carefully.
Features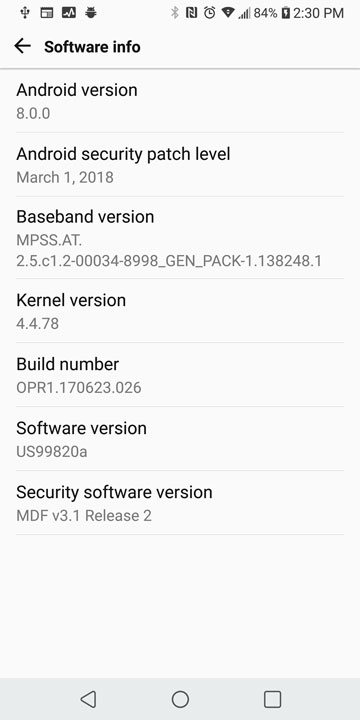 The Android Oreo update brings with it the usual Android Oreo features and the March security patch. The updated firmware is based on Android 8.0 Oreo not Android 8.1 even though the 8.1 update was released many months ago. Here are some of the new changes and features in Android 8.0.
Notifications Channels
Picture In A Picture
Multi-Display Support
Keyboard Navigation
Background Limits
New Wi-Fi Features
Better Icons
Autofill
Note
The firmware files listed below are only for the LG V30 US998 and H932 models. Do not try to flash them on any other devices unless you do want to brick them for some reason.
The process might wipe all your data, potentially including the internal storage as well. Make sure you have a back up of all your data.
We recommend that your phone should have at least 50% to 60% of the battery left so as to prevent any accidental shut down in-between the process.
DroidViews not responsible for any damage to your phone.
Make sure you have the necessary LG USB drivers installed on your PC.
Download KDZ firmware files
Download LG UP Tool
You can download the latest LG UP Tool and UPPERCUT from our dedicated LG flash tool download page.
How to install official Android Oreo update on LG V30
Download LGUP from above and install it on your PC.
Run LGUP tool by running the UPPERCUT_1.0.0.0.exe and then copy the folder common from the downloaded LGUP folder to C:\Program Files (x86)\LG Electronics\LGUP\model.
Now you will need to boot your LG V30 into download mode. To do this first turn off your phone. Now press and hold the Volume Up button. Connect your phone to the PC with a USB cable while holding the Volume Up button. If everything is properly set up, LGUP will not warn you, if not, it will ask you to connect your phone. You should check the USB connection and the drivers if that happens.
You should see Firmware Update written on top of your screen now as your phone boots into download mode.
In the Process section, select the UPGRADE radio button. and then select the KDZ firmware file that you've downloaded. Make sure it's the correct KDZ for your device. 
Click on the Start button when you're ready and the flashing process should begin. It may take a while so be patient and do not unplug the phone during the process. It may restart a few times and say that Android is upgrading.
After successful completion of the process, disconnect your phone and perform a factory reset. This is a recommended step, however, an optional one.
source: xda