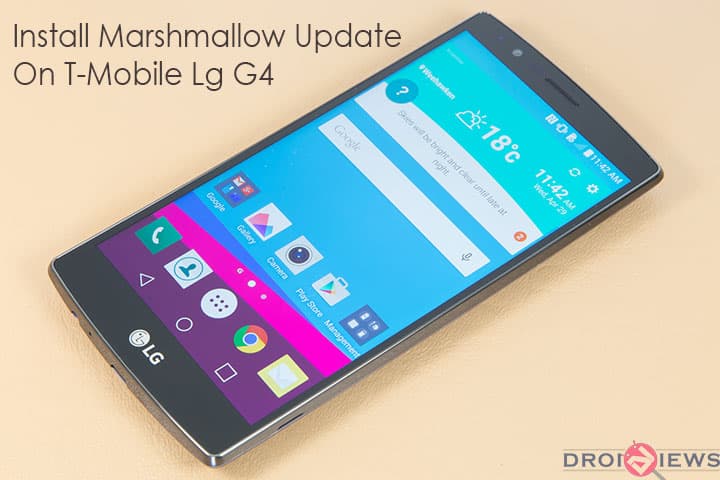 LG G4 was one of the first devices to receive an update to Android Marshmallow, after the Nexus devices. But for T-Mobile Lg G4 users the update has started to roll out just now. The new update brings the optimizations of Android 6.0 and customizations and tweaks by LG, that are meant to provide you a better user experience.
The most talked about features in the Marshmallow update are Doze mode which gives excellent standby time for your device, App permissions which enable you to control permissions for your device, Now on tap, and few others. This guide will help you install the newly released Marshmallow update on your T-Mobile LG G4 (H811) and root it.
If you are running Stock ROM without any customizations like Rooting or flashing a custom recovery, then you may simply Check for New Updates in your Settings app and install the update. But if you haven't received the OTA or are running a customized version of the stock ROM or have installed any other custom ROM and have rooted your device, you cannot install the OTA update directly on your phone. You would need to flash the update using the flash tool or you can install the update by flashing the files in TWRP custom recovery by following this guide.
Make sure you have TWRP installed on your LG G4 before proceeding with this guide. If you do not have TWRP on your device follow this guide "How to Install TWRP on LG G4".
Things You Will Need
LG G4(H811) and a PC
TWRP: Link
Steps to Follow
Download LG-H81120i-Flashable.COMPLETE.zip, place it on internal or external SDcard (external preferred).
Boot your device into TWRP custom recovery.
Backup current partitions: Boot, System, Data, EFS to external Sdcard if possible (optional but suggested).
Now if you are coming from a stock ROM you may skip this step, else perform the wipes (TWRP > Wipe > Swipe slider).
Install LG-H81120i-Flashable.COMPLETE.zip (Install > select zip > swipe to confirm/flash).
Now Reboot your device after the installation is finished.
If TWRP asks if you want to install SuperSU for root, select NO.
If you want to root your device or you want TWRP recovery on your device, follow the bootloader unlock directions given below.
Unlocking the Bootloader and Rooting T-Mobile LG G4
Previously only 'OEM Unlock' had to be toggled in Android Developer settings for TWRP or custom boot images to work. But now starting with the Android 6.0 20i bootloader it has to be unlocked using the fastboot command, sorta like  Nexus devices.
You would need ADB and fastboot installed on your device to follow the steps given below. The easiest method is to install Minimal ADB and Fastboot. You can get it on this link 'How to Setup ADB and Fastboot on Windows within Seconds'. After installing Minimal ADB and Fastboot on your PC follow these steps.
Download the twrp-2.8.7.1-h811.img file from the link given above. Copy this file to the Minimal Fastboot folder and also to external SDcard* of your device.
Download the latest SuperSu zip (2.67+) from the link given above, and copy it to external sd card*.
Confirm "OEM Unlock" is set to Enable in the Developer Settings.
Enable "USB Debugging" in Developer Settings, connect your device to your PC using a USB cable and type the following commands in the Minimal Fastboot and ADB window.


adb reboot bootloader (phone reboots to bootloader)

fastboot oem unlock (this wipes ALL data!!)

fastboot boot twrp-2.8.7.0-h811.img (phone boots TWRP)

For permanent TWRP: In TWRP hit Install > Images (bottom right corner) > select TWRP.img on ext sd card > select "recovery" > swipe.
If you want root: Select the Home button > Install > Select SuperSU zip on external sd card > swipe to install it.
Now select Reboot to System.
If TWRP asks if you want to install SU, select No.
*If you do not have an external sd card to save SuperSU and the TWRP.img. You will need to skip saving the files to sd card until after you have used the command  fastboot OEM unlock and boot into TWRP. After booting TWRP, you can use ADB push to put SuperSU and TWRP.img onto the internal sd card to install with TWRP or you can use the MTP mount option in TWRP and drag n' drop the files from the computer to the phone. You cannot store the files on the internal sd card before he OEM unlock because OEM unlock will wipe all of  your data in internal storage.
Enjoy the latest iteration of Android i.e. Android Marshmallow on your T-Mobile LG G4. If you have any queries leave them in the comments section below.