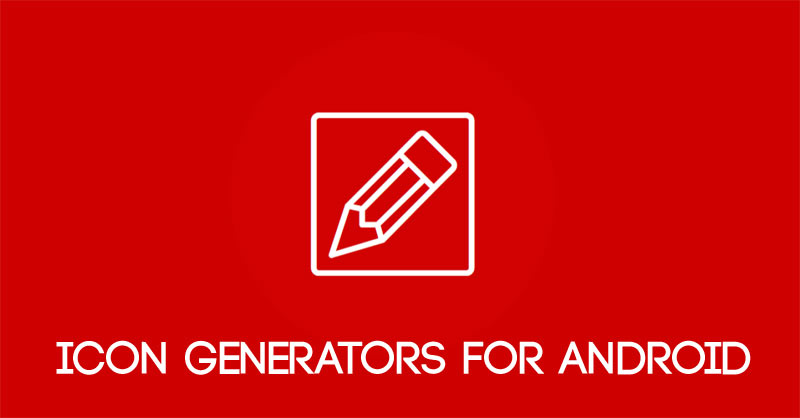 Android is all about customization and personalization. That is the reason why most of the smartphone users are now using Android in 2020. You can use various methods to personalize your smartphones like wallpaper, launcher, skin packs, and icons. Icons are something that represents your apps in your device. And the best part is that you can make your icon according to your choice! Today, we are sharing some excellent icon generator apps for Android using which you can design your custom icons for free.
Changing icons on your Android smartphone is easy. All you need is a compatible launcher that supports custom icons. Although there are many icon packs available in the Play Store with plenty of good designs. However, to give a personal touch to your smartphone, most people make their own icons for apps. This is a widespread practice among Android users.
Top 5 Icon Generator Apps for Android
There are many custom icon packs available, but the joy of making your own icons is just great. So here we have some excellent icon generator apps for your android device. Have fun making amazing icons!
Iconic: Icon Maker
Iconic is a professional grade icon generator app for Android. It comes with unique features to make the icon making process easier for day to day users. Iconic comes with professional tools that are used by the majority of graphic designers. Also, there are ready to make icon templates which you can use to design your own custom icons. Operating the app is easy since it is very user-friendly. You can make icon our of your photos, or text or GIFs as well.
Features:
Over 5,000 icon designs
Multiple export options
Custom fonts support
Modern design
[googleplay url="https://play.google.com/store/apps/details?id=xeus.iconic"]
Icon Pack Studio
As the name might suggest, it is a professional grade icon making app. With Icon pack studio, you have the ability to make batch icons or group icons. So if you want to make design for all the apps on your device, this might be the best choice. Their automated features save both space and time. And they give you full control over your creativity. There are multiple features and layers available. Users can also make layer icons with transparent png support.
Features:
Compatible with most launchers
Easy import and export
Support transparent png files
[googleplay url="https://play.google.com/store/apps/details?id=ginlemon.iconpackstudio"]
Love customization? Check out the best customization apps for Android devices.
Simple Text
Simple Test is a unique icon editor app where it allows users to make icons out of the text. It is a great app with a great concept. As you might need to make minimalistic icons, then this is the best pick for you. There are several options for text, font, shadows, clipping, etc. You can experiment with different options to make the ideal and minimal text icon for your device. Combine these icons with a minimal clock widget and your home screen will look fantastic.
Features:
RGB color picker
custom widget support
Shadows and font effects
Supports transparent icon making
[googleplay url="https://play.google.com/store/apps/details?id=com.redphx.simpletext"]
Material Icon Maker
If you're a fan of material icons, then you should definitely install this app. Material Icon makers, as the name suggests, can make material and minimal icons for you. The app is simple to use. As you can choose a template, import icon clipart and can play with color pallet. Later on, you can export the icon in png format. Or you can directly apply it with your favorite launchers. The best part is that it's so simple that you can make a new icon with just four steps.
Features:
More than 900 material icons
Ability to import images
Supports dark mode icons
[googleplay url="https://play.google.com/store/apps/details?id=com.arunsoft.icon"]
Logo Maker – Icon Maker
Logo makers is very well known in Play Store. With its ability to make custom logos and custom icons, it is very popular among Android enthusiasts. Logo maker has the ability to create fancy logos or icons with a few simple clicks. They have ready to use templates which makes the work easier for you. And if you're feeling a bit lazy, then you can edit the custom icon and change color or clip arts. Definitely, a fun application to unleash your creativity.
Features:
Pre-made 100 Backgrounds
3D Rotation support
Textures and Overlays
Advanced Editing
[googleplay url="https://play.google.com/store/apps/details?id=com.zmobileapps.logomaker"]
How to use Icon Generator Apps
Icon making apps on android are special tools by which you can make your very own icons. If you're not happy with your current icons on the home screen, then you can make new ones. And you can use these icons with your favorite launchers. Nova launchers, Solo launchers, and Apex launchers are the name of few launchers which supports custom icon support. So what you're waiting for? Create some new icons with these icon generators applications.
Looking for icon packs? Checkout amazing icon packs for Android you'll love.
So, guys, this brings us to the end of this article. Although there are many more icon making apps, these ones are the best of the best. These apps will help you to unleash your creativity in making personalized icons for your android. Let us know which one of them you use the most in the comment section below.
Read Next: Rootless Launcher in-Depth Review