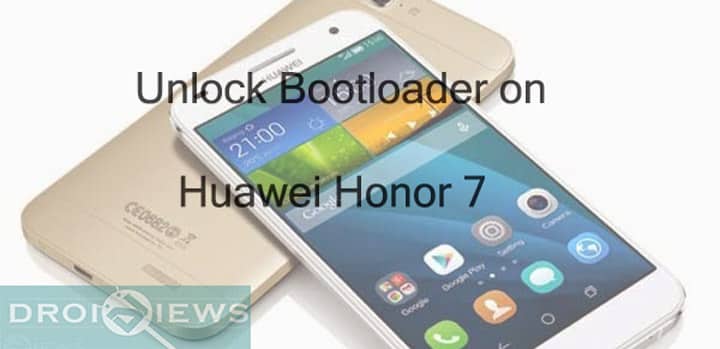 Unlocking the bootloader is the first step towards gaining root privileges using which you can proceed with further development of your Android device. It enables the user to flash the third-party firmware on your device. Huawei has granted bootloader unlocking permissions for its latest phones, tablets and official firmware. Hence, you need to accept the Unlocking Agreement from Huawei before you unlock the bootloader on your device. So if you are looking forward to unlocking the bootloader on your Huawei Honor 7, then this tutorial will help you procure it. First, you need to generate an unlocking password, then get through the Huawei's official unlocking procedure which involves the usual ADB and Fastboot methods.
The Chinese manufacturer has recently launched the Huawei Honor 7 and has provided an easy way to unlock its bootloader with an unlocking password. You also need to obtain the Product ID for your device from the given generator application. Then you need to login to the Huawei website using your Facebook account and input some credentials like IMEI, Product ID and more. This will generate an unlocking password that can be used to unlock your bootloader. The procedure to unlock has been provided by Huawei itself.
Download
Download Huawei Product ID Generator.exe (461 KB)
How to Unlock Bootloader on Huawei Honor 7
Download the Huawei Product ID Generator from the download section.
Select your device. In this case, choose Product Model as "HUAWEI Y300-0000" as the model and insert your IMEI1 or MEID number.
Now copy the Product ID from the generator application as you would need to input it in the next step.
Now you need to accept the Unlocking Agreement and login via Facebook on the next page, to get the unlock code. Login with Facebook and enter the information on the link. Every Facebook account can unlock two devices every six months.
Once you Login, click the Unlock Bootloader if you don't get to the input form. Input the credentials like IMEI1, Product ID, Model number and more. Click Submit when ready.
You will get the unlocking password marked red.
Once you have obtained the unlocking password, get to the unlocking procedure from the link just below the submit button.
The unlocking procedure involves the usual ADB and Fastboot method and you need to input the password you just received.
Once you are done with the procedure, you will unlock the bootloader on your Huawei Honor 7. For any queries, comment down below.
Read Also: Install OTA Updates on via ADB Sideload & Recovery