Sons of The Forest is a developed version of the original 'The Forest' online game that is created by Endnight Games. It involves using methods and survival hacks to win this open-world game. Some gamers have also called it one of the best survival horror games so far. However, while playing this video game, many players have encountered an error where they are unable to open the inventory. In this game, items need to be in inventory to use them.
At the start of the game, this inventory is empty. This bug has not been addressed by the developers and has been quite frustrating for a few players. Therefore we have prepared a guide that will help you overcome this issue.

What Are The
Sons Of The Forest
Inventory
Bug
Sometimes developers give gamers an early access to video games to work around the bugs and find out which parts of the game need improvement. While many gamers have been ecstatic about the early access, it has also thrown light on the sone of the forest inventory bug which has been frustrating a lot of players. 
This game has an inventory system wherein it is in a mat that your player carries throughout the game. If you require to access the material in the inventory, this mat will be rolled out in front of you and you can pick and choose the items such as bow and arrows, explosives, grenades, shotgun, duct tape, and many more that you will be needing throughout your game missions. So whenever you need a change of equipment or weapon, you can quickly access the inventory and choose your item. 
However, due to some reason, the players are unable to open this inventory to change or switch the tools. This can be difficult for you as gamers as it may cause you to lose your progress or lead to failing the mission. 
How Can I
Fix
The
Sons Of The Forest
Inventory
Bug
?
Generally, you can quickly access your items at any time in Sons of the Forest by pressing the 'I' button on your keyboard to enter the inventory. All your essential tools, such as guns, meds, and other essential equipment, are kept here ready to be accessed by you at any time during the game.
However, this inventory system has been causing a lot of problems for specific players, including the inability to open it despite repeated tries. When this glitch occurs, gamers may not be able to obtain necessary items when they're needed and hence end up losing the game. 
While there isn't a single fix for this problem, if you are facing this issue, you can try a few methods that might help you solve the problem. 
1. Restart The
Sons Of The Forest
Game
Sometimes the game tends to have temporary glitches which can be solved by closing your current game and restarting it. It is a simple process that may require you to close your entire game where there are chances that your progress may be lost. 
Step 1: Close the game that you are currently playing by pausing it and exiting the server.
Step 2: Ensure that the whole program is completely closed.
Step 3: Now that the game has been closed, you can restart it on your system. 
Step 4: Go to your home screen and search for Sons Of The Forest in your Steam library.
Now try opening the game on your pc and see if you can open your inventory. 
2. Make Changes In Your
Graphics
Settings
Having an early access means that you will need to experiment and see which graphics setting is optimal for your game to perform its best. These graphics settings can be altered in the game setting itself. There are many settings that you can control such as the fog quality, ambient occlusion, draw distance, quality preset, shadow quality, and each feature qualities of clouds, trees, water, and so on. 
There are many options available for you to set the graphics quality on your game settings. You can choose it as soon as you open the graphics on the Sons of the Forest game. Among the options are:
Ultra-Low Mode: High frame rates and extremely low fidelity are preferred in ultra-low mode.
Low: High frame rates and low fidelity are also preferred in this mode.
Medium: This mode balances both the texture quality as well as the frame rate.
High: This mode favors high-resolution textures with minimal frame rate reductions.
Ultra: This mode favors the greatest textures and graphics features available in Ultra.
To make sure that the graphics settings are set low, follow the given steps:
Step 1: In your game, go to the main settings where you can see the top bar filled with various settings for you to navigate to. 
Step 2: Head over to the graphics part where you can set the quality settings to the low options.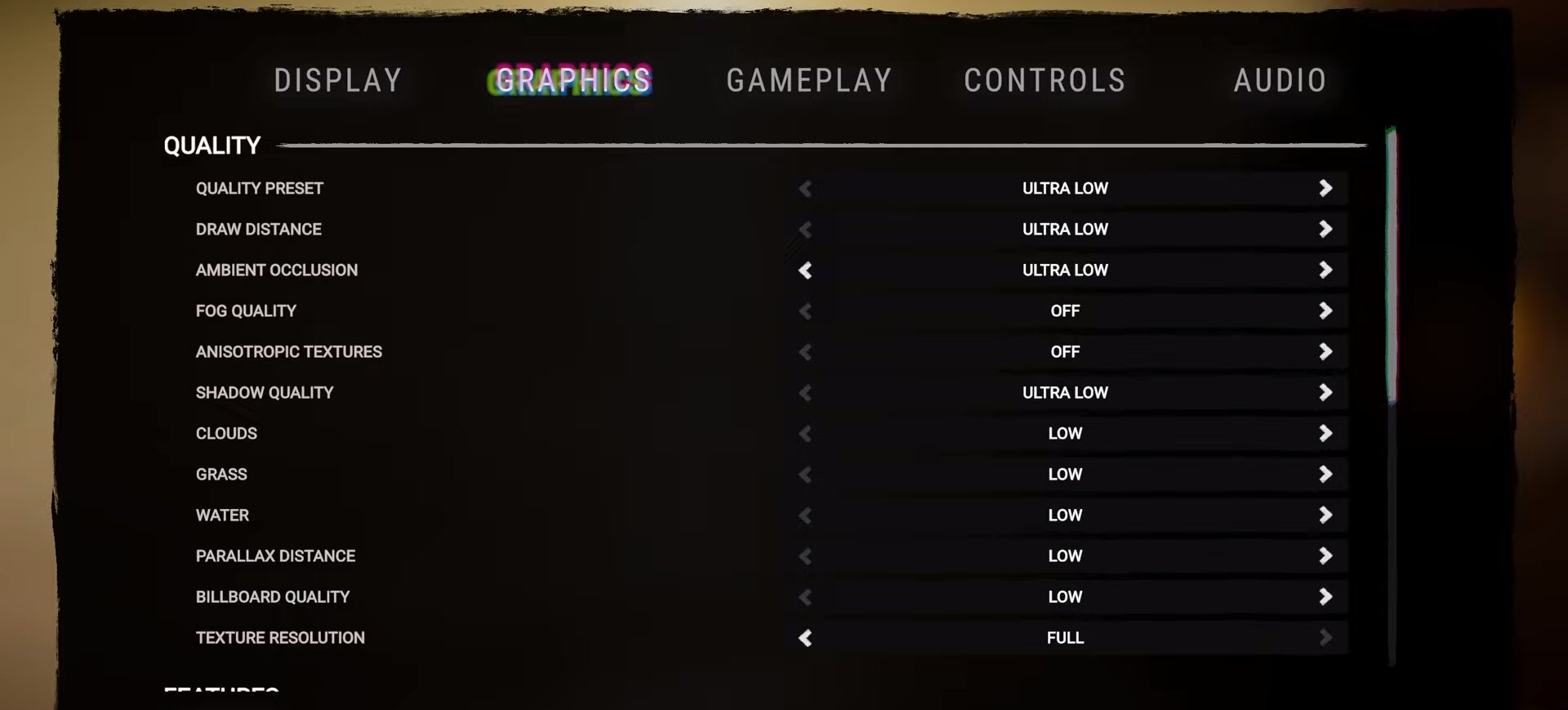 Step 3: Set the quality preset, draw distance, and ambient occlusion as ultra-low and all other game graphics features as low. 
3. Update The Game To The Latest Version
Sometimes you may be facing bugs with opening your inventory because of a lack of game updates. For this reason, you can manually go to the main game options and ensure that it automatically gets updated by enabling those options. Follow the steps below to ensure that your game is updated to the latest version:
Step 1: Go to your main game screen and you will see a list of all your games on your Steam library listed on the left side of the screen.
Step 2: Here, you can choose The Sons of the Forest game and press right-click to see a list of options. 
Step 3: Select Properties and you will see another small window appear on the screen. At the top of this window, you will find an option called updates. Click on this.
Step 4: Once you choose the updates option, you can click on 'Always keep this game updated' even on the drop-down list.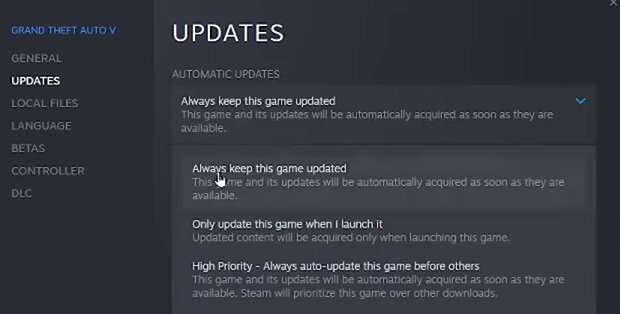 Now your game will have the latest updates, so you can open your game and check if the inventory is opening now.
4. Let Your Character Sleep
Sometimes, after you put your character to sleep, the inventory begins to open again. You might want to go to your refuge to force this to happen. If the issue is not resolved after the first try, we advise sleeping three to four times. But be aware that repeatedly sleeping will also make your character hungry. It is worthwhile to try this strategy even if it can take longer than simply restarting the game.
Many players have often made their characters head for the shelters and ended up exceeding the hunger limit and eventually losing the game. Hence, while opening the inventory is important, remember that your character can get sleep as long as they do not get hungry. 
This method has been proven to be useful by many gamers and has worked the majority of the time. While it may not work for everyone, it is still worth giving it a try.
5. Take Help From The Community Of Gamers
Many a time, gamers have dedicated forums for discussing issues and bugs that are related to online games. You can find various discord channels, forums, subreddits, user-generated guides, and FAQs to get help and support for your glitches.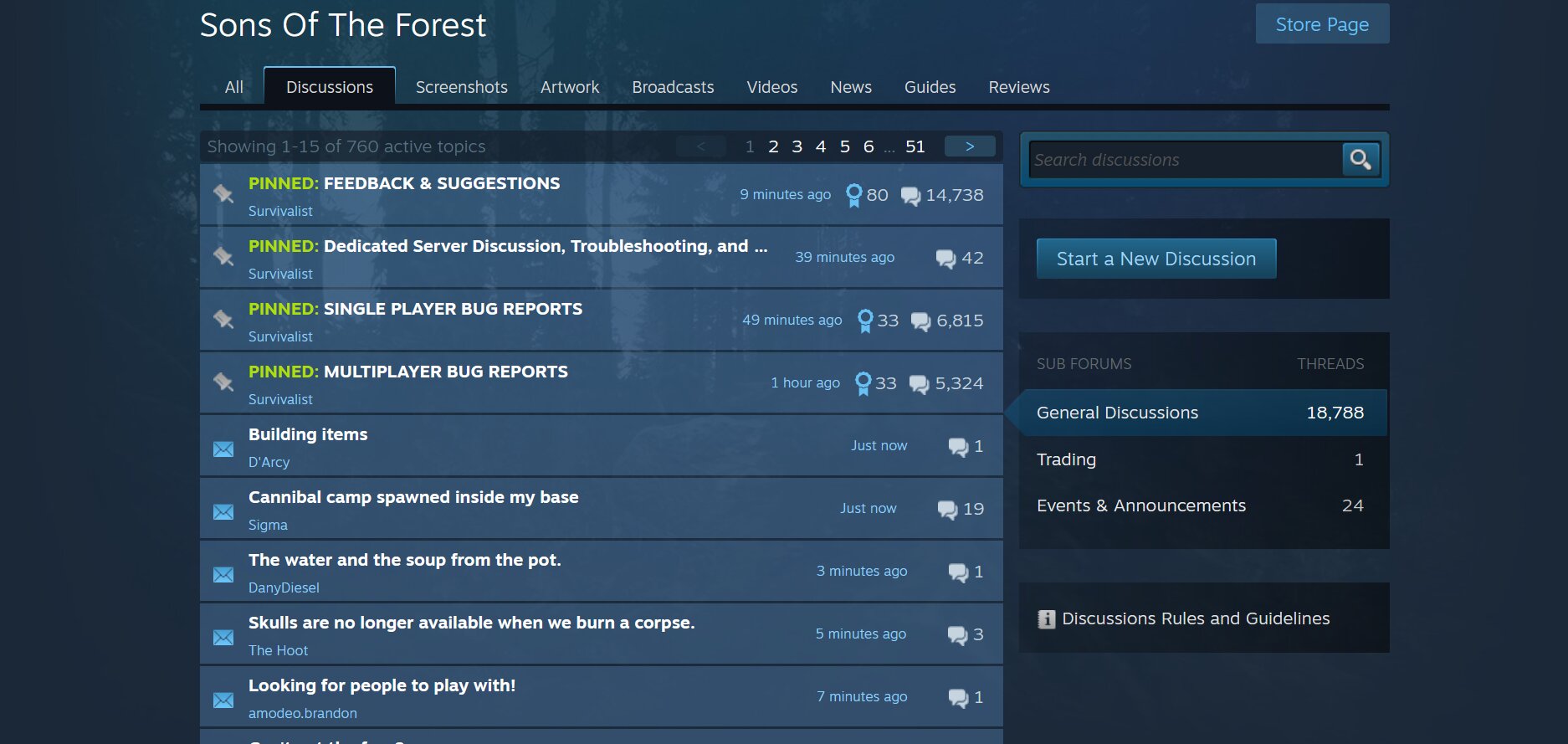 Reddit has a wide range of gaming communities, including specific subreddits dedicated to different games. You can search for a subreddit related to The Sons of the Forest game you're playing and ask for assistance or browse through existing threads discussing similar issues.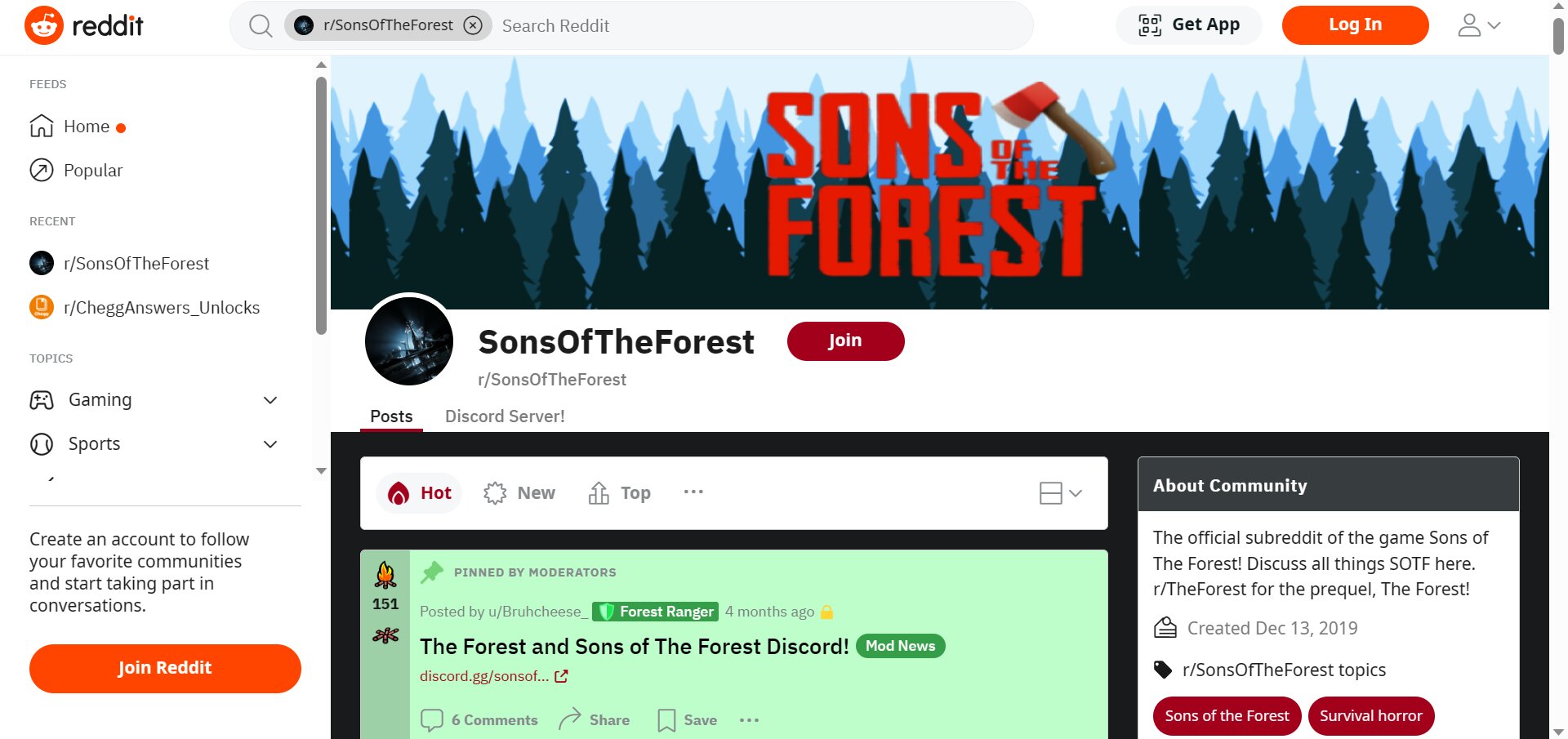 Sometimes, other players have encountered and solved similar issues before. Search for user-generated guides, FAQs, or troubleshooting threads that might address the specific bug or technical problem you're facing. Websites like Steam community forums, Game FAQs, or dedicated fan sites often have helpful resources.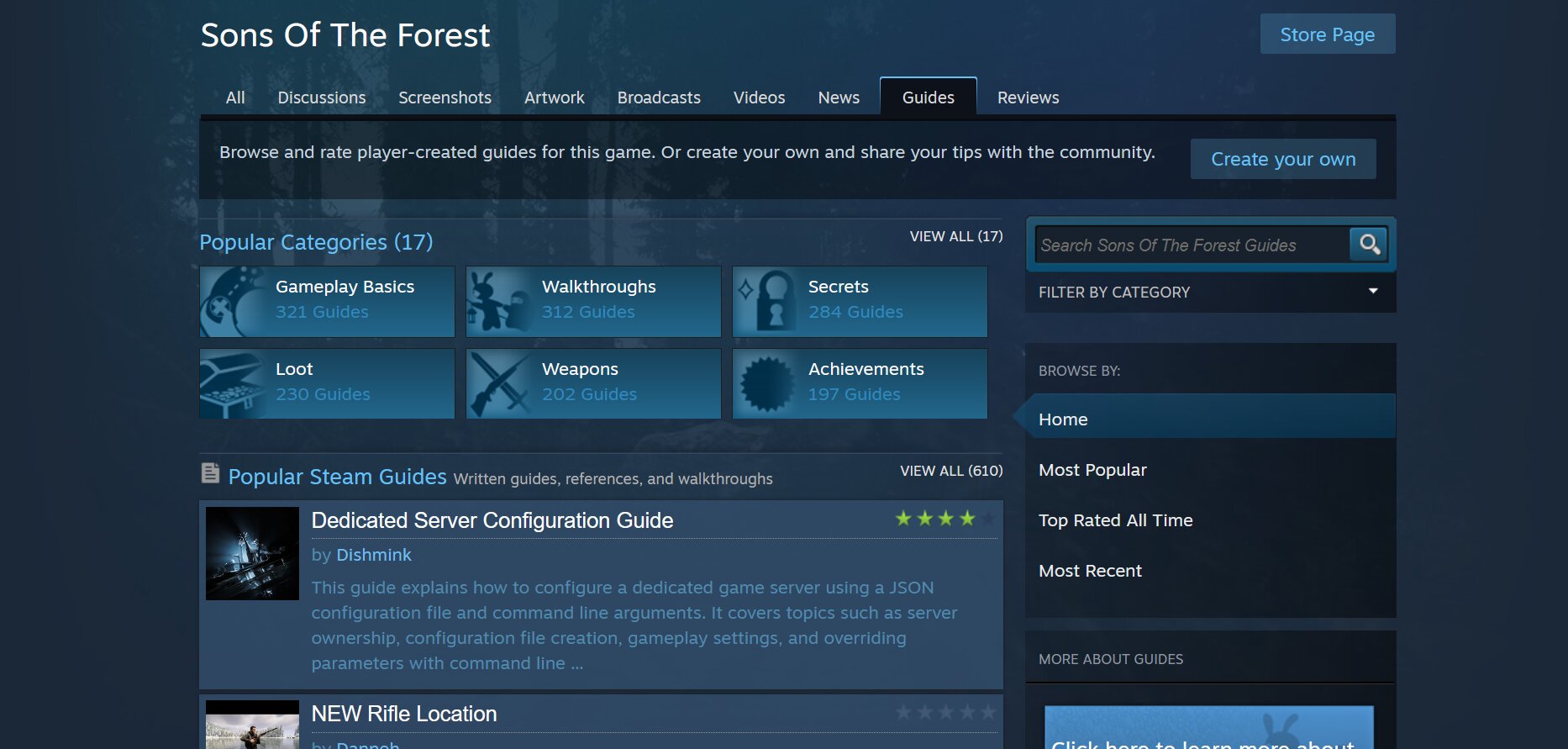 You can also follow the official social media accounts of the game or the development team. Occasionally, they may provide updates, tips, or assistance for known issues. Additionally, you can try reaching out to them via direct messages or comments for help. 
6. Go Through The System Requirements
When you install the game, ensure that you check system requirements and your system is compatible with the game's requirements. If it does not meet these specific requirements, it can damage your system or crash it. The minimum requirements are mentioned as follows:
The OS should be a minimum of Windows 10 and it can be higher.

The resolution required for the best experience is 1080 pixels.

The CPU requirements are for it to have either an INTEL CORE of the type I5-8400 or an AMD RYZEN that is of the type 3 3300X  

The pc should also have a

graphics

processing unit or a dedicated GPU which can be either a NVIDIA GeForce GTX 1060 3GB or AMD Radeon RX 570 4GB 

The DirectX version should be version 11.
A minimum of 12GB is required for RAM for proper functioning and storage space of at least 20GB.
There is also a recommended system requirement that will enhance the performance of the game. These recommended system requirements are given as follows:
Requires a processor of 64 bits.

The OS should be a minimum of Windows 10 and it can be higher.

The Processor is recommended for it to be INTEL with the core model of I7-8700K or AMD RYZEN 5 3600X

A 16 GB of RAM space is recommended for a good amount of storage.

The pc is also recommended to have a

graphics

processing unit or a dedicated GPU of either NVIDIA GeForce 1080Ti or AMD Radeon RX 5700 XT

 The recommended DirectX is Version 11 and a storage space of 20 GB is also recommended.

It is also preferred to have an SSD card for smooth performance.
7. Shut Down All Background Tasks That May Be Unnecessary
It may be especially useful to close all unnecessary background processes that are running on your device. If the background applications are constantly running then they can consume system resources and hinder the game from running with high performance and lead to glitches in the game such as inventory being blocked from opening. To end the background tasks on your device, you can follow the steps given below: 
Step 1: Go to the search button in your pc or laptop and type task manager or use Ctrl + Alt + Esc button on your keyboard to open it.
Step 2: Open task manager and in the additional settings on the startup tab, you will see processes on top. 
Step 3: Click on the processors and you can see all the background tasks that are currently running on your pc.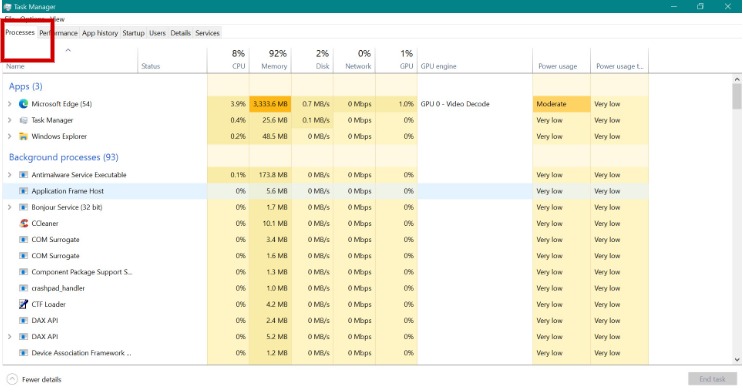 Step 4: You can right-click on the tasks that are taking too much memory or power usage and click on 'End Task'.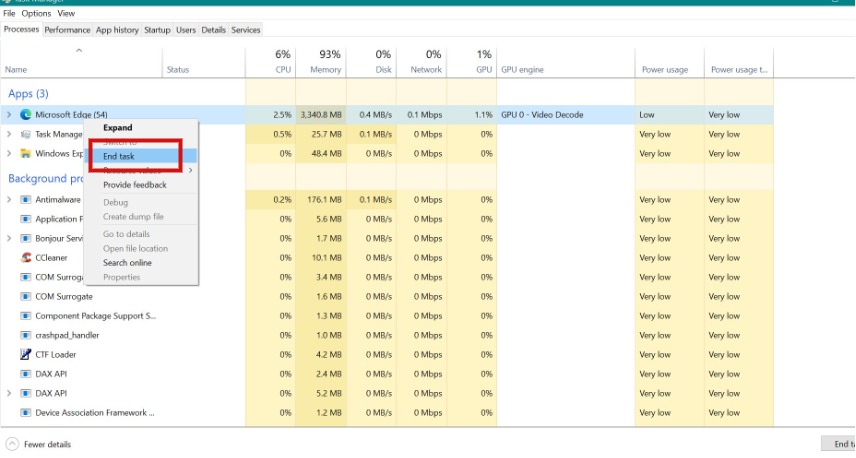 This will remove all the tasks in the background and you can reopen the game and see if you are now able to open the inventory without any issues. 
8. Update Your Windows System To The Latest Version
It may be possible that your inventory is not opening and freezing due to the outdated version of your Windows. Updating your Windows to the latest version can provide the latest security patches and early bug fixes. You can update it to the latest version by following the steps that are mentioned as follows:
Step 1: In your main menu, head over to the settings of your system.
Step 2: Now click on 'Updates and Security', another window will appear on your screen.
Step 3: You can check for updates here on a small tab.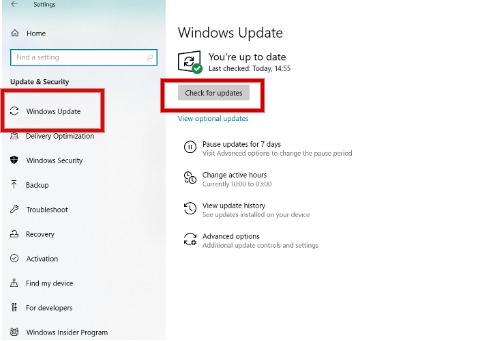 Step 4: If any pending updates are required on your system, download and install them. Now you have the latest version of Windows on your device.
You can also similarly update the driver by going to the device manager and checking on the GPU version. Reopen your game and check if the problem with crashing has been solved. 
Conclusion
As The Sons of the Forest is giving out early access, you may inevitably face some bugs like the inventory not opening issue. You can try to use one of the above-mentioned methods and see which one works for you. It will also be helpful for you to share the method that worked for you so that someone else may also benefit from it. Happy Gaming!