Have you ever punished by your teacher for not submitting your assignment after a long vacation and the things went bizarre when to tried to cover your mistake with a silly alibi. It's very funny to remember those things now but it was really hectic to submit assignments in time. Things would have been different if we have the newly released Google Classroom app back then. Yes, with Google Classroom all you need to do is to take a snapshot of the assignment and send it to your teacher for evaluation but it's not limited to that and does a lot more to make your homework more exciting.
While most of you might think that it's a brand new service from Google but it was actually launched the web-based Google Classroom in August 2014 to let teachers and students land on the same page of the book. Over 30 million assignments have been submitted since then using the Google classroom educational service. The latest Classroom app from Google lands in both Android and iOS app markets with intuitive design and exciting features which will further expand the scope of this educational service.
With Classroom, teachers can instantly share the contents of Google Docs to students which might contain the list of new assignments, syllabus for the next week's science exam or any material. The app automatically caches the documents when you're connected to the internet which helps to store the data offline in case you need to use them when you don't have a data connection. The offline caching helps teachers to grade papers even when they're offline which will be so convenient when you're traveling. Teachers can assign grades and can distribute them via classroom in real-time.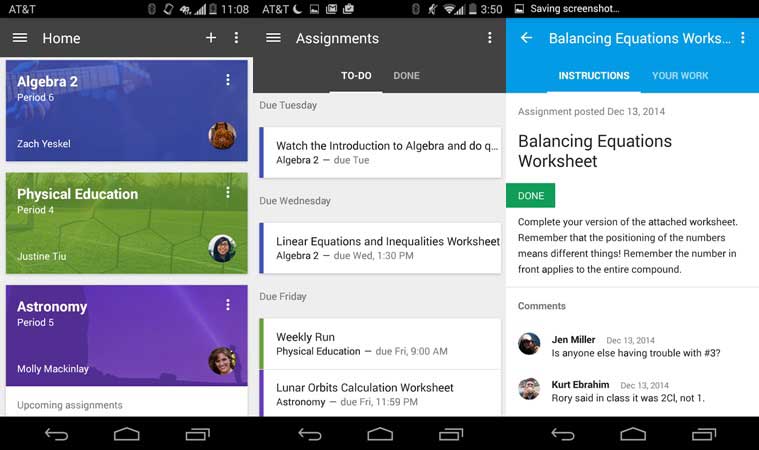 Students can always keep track of the upcoming assignments and mark the completed assignments as done. You can attach files like docs, PDFs and can also use the device's camera to take snapshots and attach them to their assignments. You can also see the classroom app listed among the apps listed when you use the share button of other apps, so you can directly share art from a photo editor or share a video of your geeky science experiment.
Students can also archive the class once it's completed which helps in organizing the finished events. However, you can still retake the archived class or submit an assignment in read-only mode. The archive feature also helps teachers to archive older assignments for a better organization of files.
As of now, Google is allowing teachers and students who are part of an educational program to access the classroom but we can soon expect it's availability to everyone. If you feel like trying this awesome app, it's free and you can download it from the link below:
Read next: Here's Why Google Keep is a Perfect Note-Taking App