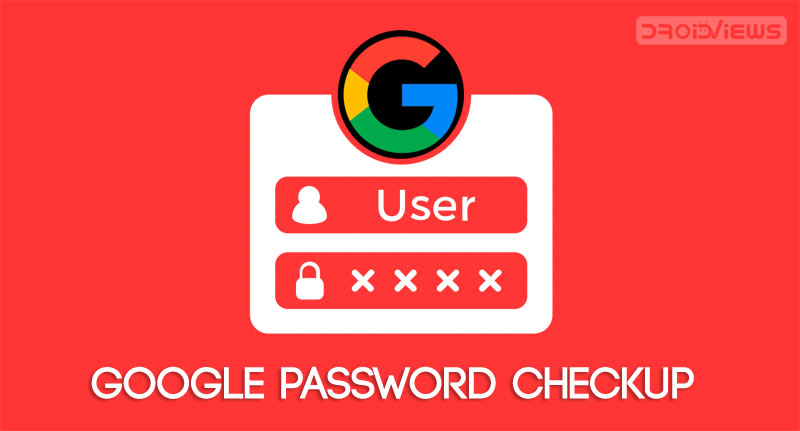 If you belong to the group of users who prefer Password1111, P@ssw0rd, or Abc123 as their passwords, then probably you are living on the knife's edge. With data breaches at an all-time high, these categories of users are most at risk. Millions of passwords are being exposed to the hackers and the general public alike as a result of these breaches. Although stopping them isn't in your hands, but setting up a strong password definitely is. Google is already doing its bits and pieces to provide a safe online working environment. From providing a password manager feature to suggesting users for a stronger password, all these are indeed a welcome move. And now, they have made another addition to it with the launch of the Google Password Checkup feature.
This tool checks the strength and security of all of your saved passwords and tells you if they have been compromised. Moreover, it would also provide you with personalized, actionable recommendations as and when the need arises. So it is of paramount importance to check whether your password breaches. And if they have been, change it right away by using the Google Password Checkup and the instructions given below. Also, to further protect your account, consider having a look at what is two-factor authentication or 2-step verification?
Google Password Checkup
Google's Password Checkup tool performs the three major functions. These are:
1. To inform you whether your passwords have been breached: Google claims to have found more than 4 billion usernames and passwords that have been exposed. This has been because of various security breaches. Your credentials might be among one of them as well. In that case, hackers might already be having your ID and password. Still, it's never too late. Take the help of Google's Password Checkup and protect your account right away.
2. To warn you if your passwords are being used across different websites: This is one of the most obvious yet biggest mistake that the majority of users seems to make. Just for the sake of their comfort, they usually use the same passwords for various different websites. Sacrificing your security for the ease of access is never a good idea. Understanding the same, Google will warn you to change these passwords on the sites having the same password. Use Google's Password Checkup tool to change your similar passwords across websites.
3. To suggest you to use a much stronger password: If 12345678 or abcd1234 are your choice of passwords, then get ready to be warned by Google. This is because such types of passwords could easily be guessed by hackers and are at the greatest risk of being hacked. So you would need to change those passwords as well. You could take the help of Google's Password Checkup for the same.
Similar to your Google Account, your WiFi needs protection too. Find out who is stealing your WiFi data and block them on Android.
Don't Miss: Get Google Photos Unlimited Storage for Free
Create Strong Passwords
Now that you know what role does the Google Password Checkup performs, have a look at the below instructions to strengthen up your passwords.
Head over to the Google Password Manager website. You will be greeted with a Welcome Message. Tap the Get Started option.
Also, make sure to log in with the account in which all your passwords are saved. You may choose your preferred account by clicking on the avatar icon present at the top right.
Next, under the Password Checkup section, click Check passwords.

Click on the Check passwords button. You will now have to authenticate your account. Enter your credentials and let Google verify you.

Google's Password Checkup tool will now begin analyzing all your (saved) passwords across various websites. It will then come up with a report which will consist of three sections:


Compromised Passwords: Passwords that have been affected as a result of a data breach.
Reused Passwords: Same password that you are using across various websites.
Weak Passwords: Websites where you are using weak passwords.

Of all the three issues, Compromised Passwords need to be rectified as early as possible. Then you may proceed ahead with the other two.

For that, click on the Compromised Passwords section and then on the Change password option to modify your existing password. You may also click on three vertical dots next to the compromised passwords section to View, Delete or Update your password. Continue to do this until all the issues have been rectified.
Congratulations! You have now a safe account across all your logged-in websites. Google Password Checkup is indeed a pretty useful tool that needs to be used by one and all. Do share this post with others to make them aware of this feature and thereby secure their accounts as well.
Read next: How to Report Malicious Android Apps