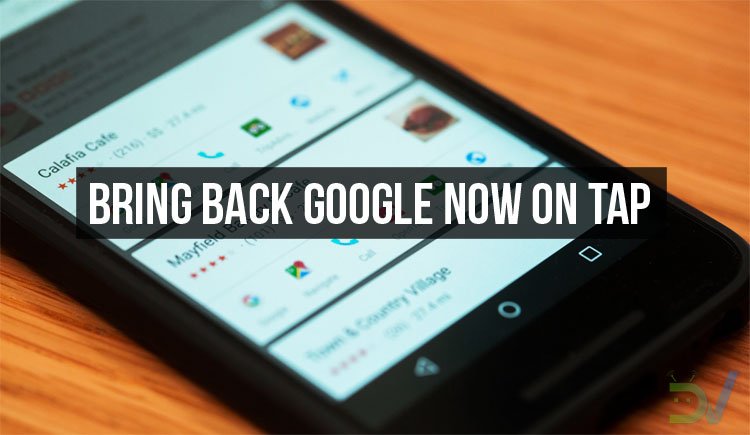 Google Assistant is a far more advanced AI system than Google's old Now-on Tap feature. Still, if you loved it more than Assistant, there's a Tasker app plugin called AutoShare that can restore Google Now on Tap on Android devices.
Google is a company known for chopping and changing things when it comes to software. We have seen many times that Google develops a design language for its operating system and then even the company does not follow its design philosophy.
Recently, Google announced Android's latest version named as Android 9.0 Pie. This version of Android comes with an all-new design language from Google named "Material Design Refresh". This is the successor to Material Design which was launched by Google along with Android 5.0 Lollipop.
Talking about changing things, we see a new layout for most of the Google products almost every day. However, these design changes might not come into effect as they are just A/B testing on the part of Google. Similarly, Google is known for abandoning products all of a sudden as well and one of them is Google Now on tap. This was a product launched by Google before Google Assistant came into existence.
Basically, Google Assistant is a much-improved version of Google Now on tap. There were shortcomings of Google Now on tap but it was also a feature that was loved by many Android users around the world.
Talking more about Google Now on tap, it was first released by Google in 2015. Google Now on tap, as the name suggests, gives information to the user on tapping. It read the information available on the screen and gave the necessary results according to the input provided.
For instance, if there is an image of any famous personality on the display while browsing through any feed and the user wants to get more information about that personality, he/she will just have to long-press the home button to trigger Google Now on tap. After that, Google Now on tap will match the image with the Google Images database and pull up the requested information on the user's Google Now on tap screen, all in a matter of seconds.
Sadly though, Google Now on tap is no longer available on Android. This is because Google Assistant has come up as its replacement, as we mentioned earlier. However, all is not lost and you can still bring back Google Now on tap. Yes, this is possible with the help of Tasker, an automation app available on Android.
For this, you will have to install three applications on your Android device namely Tasker, Google Lens, and AutoShare. We have attached links to download all the three applications in the Download section below.
How does this work?
Basically, this is a workaround to bring back Google Now on tap functionality. By no means is this a full-fledged Google Now on tap reviver. First of all, we will create a custom shortcut with the help of Tasker. This custom shortcut is a quick setting toggle to Google Lens. Now every time we want to search for anything from our screen, we will just press this quick setting toggle and Google Lens will search for relevant information on the web.
Downloads
[googleplay url = "https://play.google.com/store/apps/details?id=net.dinglisch.android.taskerm"] [googleplay url = "https://play.google.com/store/apps/details?id=com.google.ar.lens"] [googleplay url = "https://play.google.com/store/apps/details?id=com.joaomgcd.autoshare"]
Don't miss: List of 70 OK Google Commands for Google Assistant
Steps to restore Google Now on tap with AutoShare
First of all, download all the three applications from the Download section above and install them on your device.
Now, we have already created the task for you so that you can easily import into your device.
Click on this link with an Android device that has Tasker installed. After opening the link, click on Import so that it imports the task into your application.

Import task to Tasker
After this, open your Quick Settings panel and click on the Google Lens custom shortcut to search for relevant information of your screen.
This is basically it, you have just integrated a Google Now on tap-like feature to your Android device with the help of Tasker.
That's it! Performing the last step will restore Google Now on Tab on your Android device.
Read next: This is Why Hyperion Launcher is Awesome