It's a safe bet on my behalf that most of the people landed here in search of a method to get the pirated apps but we are humbly sorry for them, we are the anti-pirates. Google Play store is the largest host of Android apps and games albeit few other market places. The Play store currently hosts over a million apps and had already seen more than a billion downloads which reflects the craze for the apps among the Android users. However, Android app developers are facing a major piracy crisis from many heinous pirates who crack the paid apps and circulate them for free. It isn't just a discouragement to the developers but also a serious threat to software privacy and agreements. Well, you can get paid Android apps for free and I am going to tell how.
We sincerely understand the hard work behind developing an app or game for the Android devices and it's no crime to put a little amount on the apps to meet the development charges. However, not all the apps are paid apps as Play store has a record figure of free apps than any app market. Many of the paid apps are just worth a dollar or a two which shouldn't push you into any financial crisis. We, as an Android community, request all our readers not to encourage software piracy in any case.
After going through this post, we believe that you don't need to install pirated apps anymore as we will show you many ways to get paid apps for free in a genuine way. Most of the Android users are unaware of some simple apps and websites that give away paid apps for free or at great discounts to encourage their users. Here's a long post on how to get paid apps for free in a genuine way and thus regulating app piracy to a certain level.
Amazon App Store
Amazon app store is often forgotten or alien to many Android users but it is one of the largest app markets for apps after Play store. Many renowned developers publish their apps to the Amazon app store which hosts a large number of app and games. However, the most interesting feature that this app store offers is the free app a day through which they give away one free app a day for the users.
All you need to do is to install the Amazon app store app from the Amazon website and keep checking for the free app of the day. If you wish to download the free app of the day, all you need to do is to log in to your Amazon account and download the app. Google treats these apps as unknown apps, so you may need to enable install from unknown sources from the security settings of your device.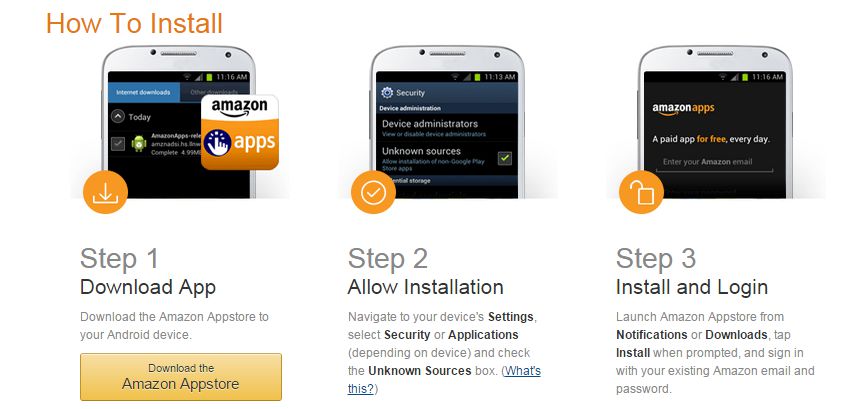 Follow these steps to get your free app of the day:
Navigate to the Settings » Security and check the Unknown Sources Option.
Download the Amazon app store.
Install the Amazon app store and check for the free app daily and download it after logging to your account.
Note: You can get daily free app alerts using Free App Notifier For Amazon app from Play store but it only works for the US Amazon app store.
AppGratis
AppGratis is the next place to look after the Amazon app store where you'll get some amazing apps for free. The idea behind this app is similar to that of the Amazon app store but you can download AppGratis directly from Play store. Another great thing behind this app is that the developer of app handpicks the paid apps and negotiates within his developer network to provide them for free, so you get some cool apps for free.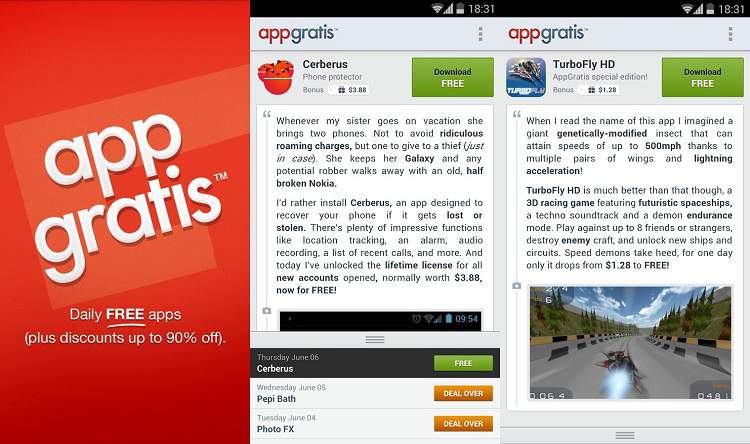 You'll also be notified of the free app of the day in the form a notification which helps you grab the free app. However, not all the apps provided by AppGratis is completely free as some of the apps are free to install initially but you may need to pay for further updates. Nonetheless, you're getting a paid app for free and that too hand picked by the developer. Download the AppGratis app from below and enjoy the free apps daily.
Google Opinion Rewards
Looking at the title, you might have already guessed that this is something that comes from Google itself. You're absolutely correct about it, Google offers some cash through which you can buy some paid apps for free. However there's a catch, you need to walk through a few surveys before you can enjoy a paid app. So, you need to install the Google Opinion Rewards app from the Play Store and complete surveys to purchase apps.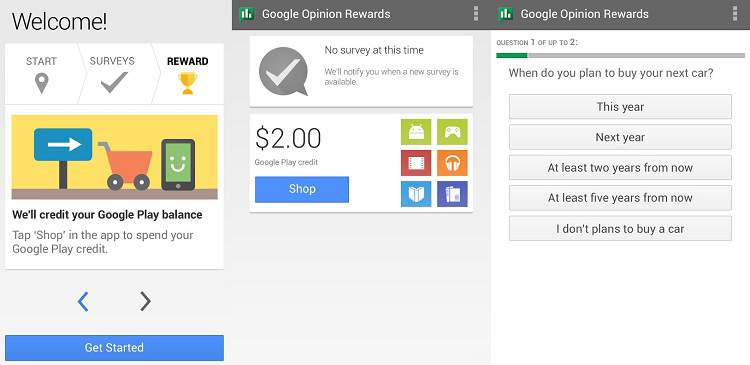 It all seems cool and easy, but in reality, you won't find enough surveys to get the credits for purchasing an app. However, you might take few surveys and buy apps occasionally which is a cool thing but you have to remember that the information from the surveys you take can be used for improving Google searches for you or bringing unnecessary emails in your inbox, so it might be a little void to privacy.
Nevertheless, Google won't spam your inbox a lot, so you can use this app safely to save for your occasional app purchases. You can download the Google Opinion Rewards app from the link below.
Getjar: Paid Apps for Free
If you've ever user java or Symbian phones back in the time, you must have explored the vast Getjar app collection. Getjar used to be my personal favorite before I used Android devices, you can find a hell lot of apps and games with them. Coming to Android apps, Getjar also has an Android niche app where it offers paid apps for free in exchange for Getjar gold.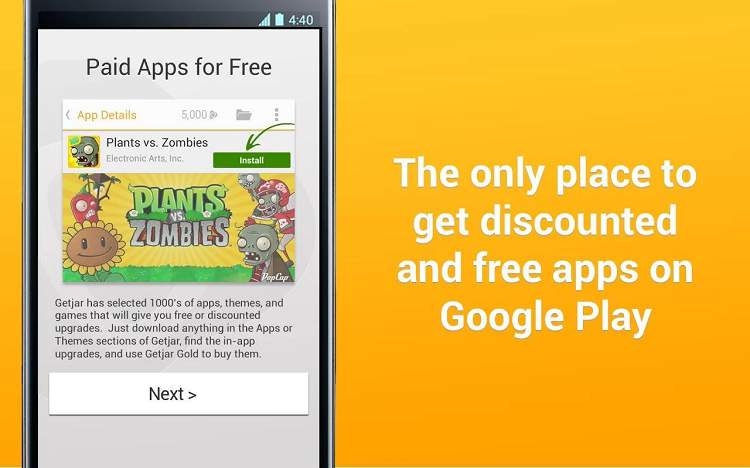 You might be wondering about the Getjar gold, right? Getjar gold is the reward offered by the Getjar app for trying out some random apps from the featured apps on the offer wall. The earned gold can be used to buy paid apps which in turn gives you some credit. So, you can keep earning credits and buy new apps with Getjar without much hassle.
If you don't want to wait until your favorite app to go free, then Getjar is the perfect match for you. Just try out different apps and keep earning credits to buy your favorite apps. Download and enjoy Getjar app for Android from the download link below.
That's all for today guys, we are aware of more ways to get paid apps for free but most of them are not worth enough to spare time. However, you can suggest to us any more ways to get paid apps for free in the comments section below.