With iOS 7, Apple has completely revamped the look of the operating system used in its mobile devices. The company has ditched the well-known gradient graphics used in the user interface in favor of a more simpler, plain and minimalist UI. Feature-wise too, iOS 7 is a big leap and adds tons of new things to iPhone.  The newly introduced Control Center feature in the latest iOS beta is really a thing that'll make its users a little happier.
For the past few years, Apple has been very busy with dragging its rivals to courtroom for infringing patents and accusing them of copying its so-called "innovations" but there are certain things in Android that have inspired Apple (I feel a sense of blasphemy in using word "copy"!) to "innovate" features like  Control Center in the new iOS 7.
Android users have been using such a feature since the beginning. Since the release of Jelly Bean, we have advanced Notification center that lets not only toggle between system options but also preview notifications. If you have seen previews of the iOS 7 Control Center and ever wished to have something like that on your device, you can have it now by installing a free app called "Control Center" for Android.
The app lets you enjoy iOS 7 Style Control Center on your phone in the best possible way. The similarity between the original and the "inspired" ones are not only in names but also in look and features as you can see in the screenshots.
Control Center is a very simple app with a minimalist look but has useful functionality. It is very convenient for devices with big displays as you need not reach your fingers to the top of the screen to pull down the notification bars to toggle certain options from almost anywhere. Besides the toggles, you also have sliders for brightness, system volume, and ringtone. Moreover, there are also a bunch of quick access buttons for flash-light, alarm, calculator, camera, etc.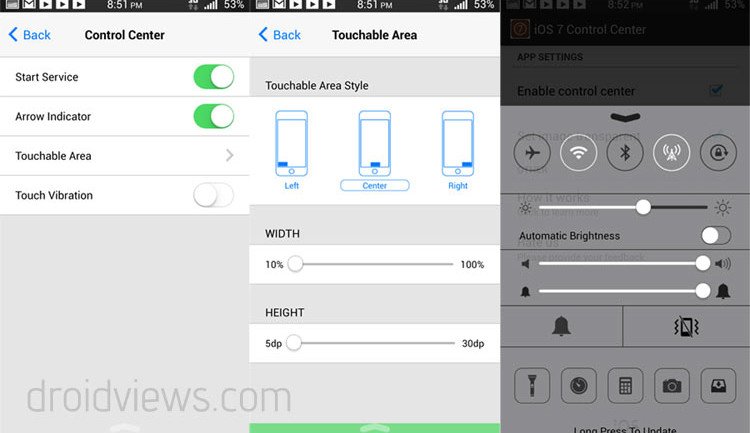 The app is still in early stages of development and lacks customization options like changing background and shortcuts. We hope that these features will soon be added to it in upcoming updates for an enhanced experience. There are a couple of similar apps but this one is the best of all. Download Control Center app from the Play Store and give it a shot. I hope you'll love it!
Read Also: How to Hide Root on Android and Pass SafetyNet Check