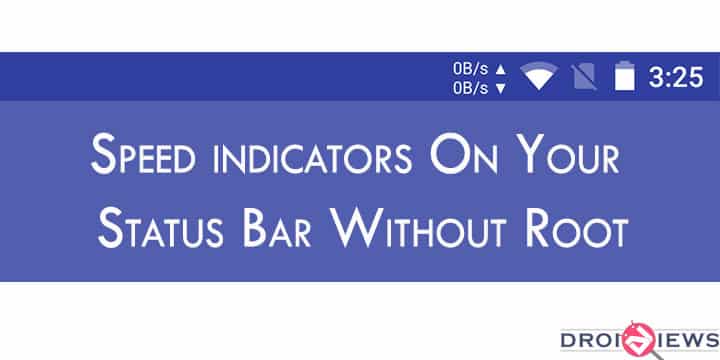 Monitoring the speed of your network helps you keep check on the speeds you are getting from your service providers. There have been certain mods which allowed us to achieve this, but they required your device to be rooted. Here is an app which lets you add network speed indicators on your status bar without the need of root and Xposed.
Internet Speed Meter Pro lets you add upload and download speeds of your current network in the status bar so that you can easily access them while using any application. There are a few customization options available to make the text appear to your liking. The application also helps you in monitoring data consumed by you. It also keeps checking on data consumed by each application.
Features
StatusBar Widget Without Root or Xposed.
Notification Monitor Tool.
Daily and Monthly basis Internet usage Record.
Design with Material Design Principles.
Many Customization For Widget And Notification: Change the color of the speed indicator, reposition them, change units.
Though you could track data usage in the Settings app on your Android device, this application makes it simpler and shows you data consumption on per day basis and as well as a per-app basis, all in a neat UI. The option to change the color of the speed indicator is good to have since default color might not be visible on every wallpaper you use. The ability to view daily data usage is also a nice feature to have. You can enable the Hide on Idle option available in the settings of the app to hide the indicators when not using the Internet, well mine never got hidden (just because I am always using net).
I found the app helpful in monitoring my data and speed. You could view up and down speeds while using any other application without any troubles. The only downside of the application is that position of the speed indicators have to be set manually, which is good to have but it does not reposition itself once you have several notifications on your status bar, so it kinda overlaps with the notification icons and makes it difficult to read the speeds. Well, you could easily clear all the notification to overcome this issue, but it would have been nice to have non-overlapping notifications and speed indicators.
Screenshots
Try this application to monitor your data consumption and network speeds. Do leave us your feedback on the application. Keep visiting us for more cool applications, Tips and Tricks, Rooting guides and other interesting stuff in the Android world.