When it comes to customization the Android system offers a lot of options, one of the toughest option that any user faces is selecting that perfect wallpaper for his/her phone that'll just make the display pop. For many, wallpapers often are a reflection of what they liked it could be just to make their smartphone look cool (like me). And if you are anything like me, then you will also know the struggle there is while searching wallpapers.
Unfortunately, it can get very tiresome when searching for that perfect wallpaper, and especially after Google rolled the 5.0 Lollipop update last year, the Material Design wave has taken over almost every aspect of our smartphone environment. This applies to wallpapers too. So if you are one of those who has a craving for material design wallpapers then we have a nice little app called Plastexo for you.
This little app is completely free of cost and has a huge collection of material design wallpapers which will perfectly suit your material design craving. Developed by mowmo, a newbie to the world of Android theme customization it supports devices running Android 4.0 and above.
Interface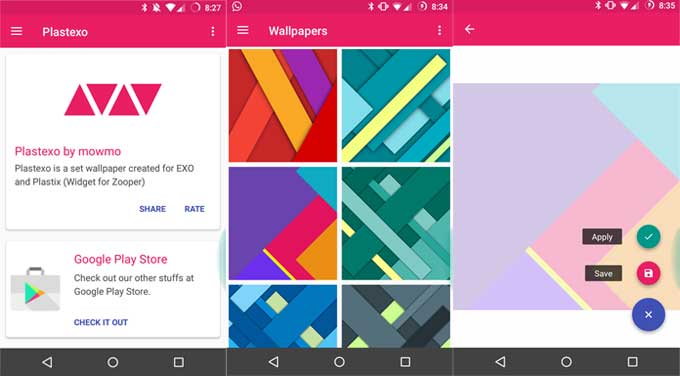 The application interface is very minimalistic and simple to use for everyone. Once you open up the app, just slide from the left to open up the main menu, and then select Wallpapers to view all the wallpapers this app has to offer. From there its just select the one you want and you can either choose to apply the wallpaper right away or you can choose to save it in your internal memory.
So you can go ahead and download and try it out using the download links given below
Final Say
For me personally, I have fulfilled all my material design wallpaper needs with this very useful app and I would recommend it to anyone to has the same needs as mine.
If you have suggestions the app or another similar app that you know of, do let us know in the comments section below.