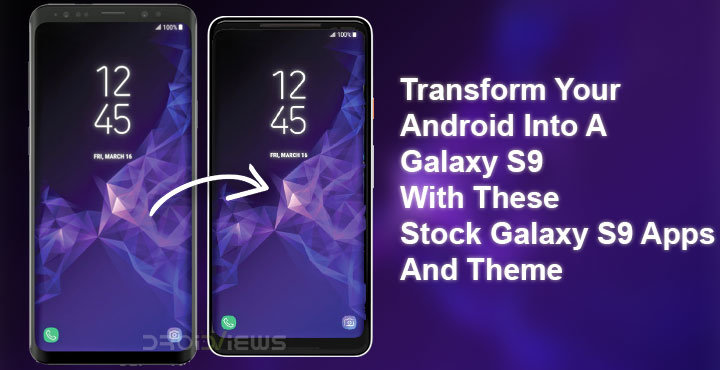 In case you've been living under a rock, Samsung has quite recently announced its latest flagships in the Galaxy S series. The Galaxy S9 and Galaxy S9 Plus are not huge upgrades over the Galaxy S8 and Galaxy S8+ save for the variable aperture in the cameras. That isn't necessarily a bad thing though, it simply means you can still enjoy your Galaxy S8 and S8 Plus without yearning for the S9. Your pocket will like it. Still, a brand new phone is a brand new phone. New wallpapers, a new theme, latest stock apps, and other minor changes are still going to be there. Luckily, with Android, you can just transform your current phone into a Galaxy S9.
You don't necessarily need a Samsung phone to do this either. If you're familiar with rooting and installing custom ROMs, you know what I'm talking about. Even back in the Cyanogenmod days, the CM ThemeEngine was good enough to give your entire device a makeover of sorts. We don't live in 2012 anymore though. These days you can pretty much install any theme without even rooting your device. Substratum themes work on Samsung devices as well as any other devices running Android Oreo. Although, while themes are a major part of a makeover, they aren't everything.
For instance, you'll still need those brand new Galaxy S9 wallpapers. If you wish, you can even go on to install the latest stock apps from the Galaxy S9. If that does not complete a transformation I don't know what does. You may not need root access to install the substratum theme but you will need it for the apps. Anyway, so far we've only been talking, and haven't seen much. So here it is, your transformation pack. In the download section below you can find a link to download the new Galaxy S9 stock wallpapers, and links to the stock apps and the substratum theme.
Downloads
The Galaxy S9 stock apps have been ported by AlexRafiq.
Requirements
A rooted Android device running Android Oreo.
TWRP recovery
Note: The apps have been ported to work on any Android device and not necessarily Samsung devices. Although this is an early port and it cannot be guaranteed whether all the apps will work with your device. It'd be advisable to create a TWRP backup of your system partition first before flashing anything.
Install Galaxy S9 Theme
The link to the Galaxy Evolution theme will land you on the Play Store page where you can install the theme on your device. There's also a link to the Substratum app if you don't already have it.
In order for Substratum to work, you will need the sungstratum plugin for Samsung devices, while other Android Oreo devices will require the andromeda plugin. To get substratum working on your device, follow this link for Samsung devices and this link for other Android Oreo devices.
If you have a rooted device, you don't need the above-mentioned plugins, although, the developers of substratum recommend using the plugins instead of the root method. In any case, the substratum theme engine should work as advertised.
Now that you have the substratum theme engine up and running, and have the Galaxy evolution theme installed, launch the Substratum app.
Tap on the theme named Galaxy Evolution.

Toggle on the main switch to select all the overlays at once, or select each one individually and then tap on the floating button in the bottom-right corner.
Select Build & Enable.
If you're using Substratum with root, you may have to reboot your device.
Read Next: How to NAND Erase Samsung Devices in Odin
Galaxy S9 stock apps
The Galaxy S9 stock apps are available as a single flashable zip which you can download from the Downloads section above. As already mentioned, you will need root access in order for the apps to be installed and to work. Furthermore, since it is a flashable zip, you will need a custom recovery such as TWRP.
Following is a list of the stock apps from Galaxy S9 contained in the zip:
Phone and Contacts
Incall UI
Browser
Clock
Calendar
Messaging
TouchWiz Home
Edge Lightning
Task Edge
People Edge
S Finder
Smart Manager
Gallery
Photo Editor
Calculator
Weather
Always ON Display
Audio and emoji's
How to install
Reboot your phone into recovery mode.
Select Install.
Navigate to the downloaded flashable zip file and select it.
Swipe at the bottom to flash it.
The flashing may take a few seconds considering the zip is over 300MB in size. Once complete, tap on the Reboot system button that appears.
Don't Miss: 10 Best Samsung Themes for One UI / Android Pie