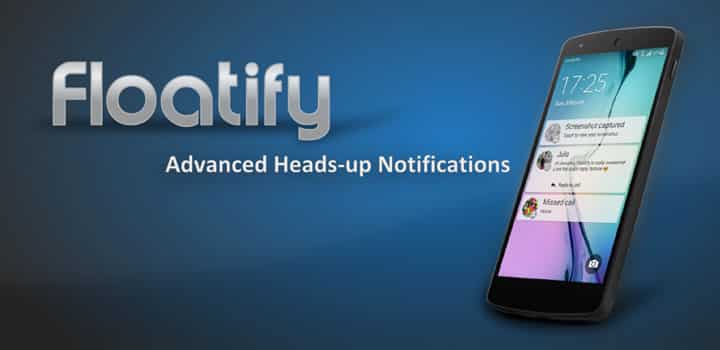 When Google announced the Lollipop features a year ago, along with its Heads-up notifications feature, Floatify was one of the first apps to bring the Heads-up notifications even before Android Lollipop was launched. However, when Android Lollipop was released with its heads-up notifications feature, Floatify turned out to be more popular than the official one. Ever since Floatify has managed to stay on top with its great features and loads of customization options for displaying notifications.
Floatify is an alternative app to display notifications and popular for its Heads-up notifications across Android Systems. Moreover, it has many other powerful features in terms of notifications like stacked heads-up lockscreen notifications, heads-up quick replies for WhatsApp, Line, Hangouts, Direct Replies; smart wake screen on notification, music controls for the stock music player, Google Music, Spotify, Poweramp and lots more.
The QuickReply lets you send messages directly from the notification whereas DirectReply lets you send predefined messages like "Ok, thanks!" without typing. Smart Wake will turn on the screen as soon as you pick up your phone. Smart Blacklist will hide heads-up so they don't show up while watching videos with your friends or playing games. Moreover, you get the privilege to peek at notifications directly from the lockscreen so you no longer need to worry about the seen or online status. Mini Heads-up will use up the minimal screen.
Now Floatify has yet again updated its app that makes it better than its rivals or even the official Android Lollipop notification features. The update summary for v 8.0 is here:
Join Google+ community, support & beta versions
DirectReply, send predefined answers!
QuickReply Emoji keyboard
Swipe up from home to QuickReply
QuickReply indicator
Music controls, Google, stock, Poweramp, Spotify
Force disable Lollipop heads-up
Reverse message order
Theme: iOS Notification
Popup type: Full, swipe up to hide
Disable gestures in fullscreen
Show heads-up only on home and other fixes.
Floatify is an attractive app with Material UI and comes with tons of customization options. It is a highly recommended app for those who need beautiful Heads-up notifications not only on Android Lollipop but on any other Android version. Download it from XDA-Developers or from Google Play Store.
Read Also: 5 Lightweight Racing Games Under 50MB