The festive holiday season is still on and "SALE" has become the seen things around. We all love sale seasons as they are the best time to buy things we like at heavy discounts. If you are an Android user and love app sales, we have come with a few ways to discover or find Android apps on sale in the Google Play Store.
The Android OS is nothing without the incredible apps. The Google play store hosts millions of apps – both free and paid. While a majority of people are satisfied with the experience offered by free apps, paid apps have a few benefits of their own. No ads, extra features, supporting the project, etc. are just a few advantages I can think of off the top of my head.
Everybody loves free stuff and the same applies to smartphone apps. From time to time, Google pushes sales & discounts for certain apps. However, these discounts are easy to miss if you're not paying attention. Plus, the developers, too, can discount their apps these days for a limited time, and if you are not following that specific developer on social media, you'll surely miss the opportunity.
So, if you are interested, here's how to find Android apps on sale on the Google Play Store.
Google Play Deals
Google Play Deals is a Reddit community where the members post latest discounts & sales going on on the Google play store. The members are pretty fast in posting the discounted links. Not only apps but, here, you'll also find movies and books which have been put on a sale. And, once the sale is over, the links are marked as expired in order to avoid confusion.
AppSales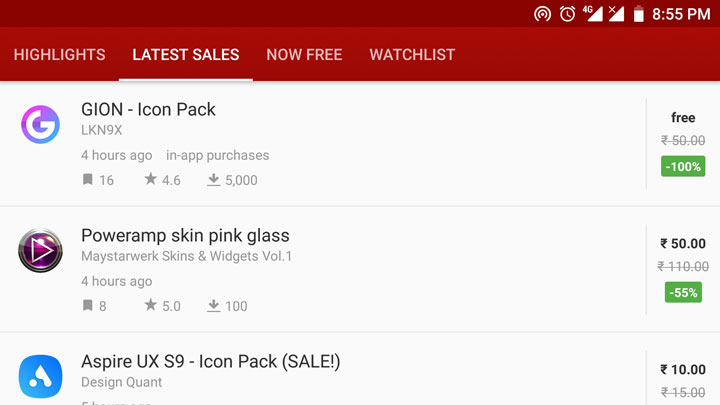 AppSales is an awesome app that shows you apps which are available on a discount for a limited period of time. The app has an easy to use interface which makes navigating through the app a breezy process.
AppSales interface is divided into four different categories:
Highlights: This section shows apps from a few days ago which are still on a discount.
Latest Sales: This section shows apps which have gone on sale recently.
Now Free: This section shows paid apps which have gone free for a limited period of time.
Watchlist: In this section, you can add paid apps you are interested in. Once added, you can monitor their price and get notified when its price drops or when it's status changes from paid to free. You can add 50 apps to your watchlist.
While AppSales is free to download, it does come with an In-App Purchase to upgrade to premium. For an annual fee of approximately $02.00, you'll get a few extra benefits like an advanced filter and keyword options, 100 apps in the watchlist, priority email support, dark theme, no ads, etc.
Paid Apps Gone Free
Paid Apps Gone Free (PAGF) is another app that tells you about discounted apps. Unlike AppSales, PAGF is just a medium to a website where articles about paid apps which have either gone on sales or have become completely free are posted. The good thing is that the website is updated daily with a list of latest discounted apps. And, you get a notification every day when a new list is ready.
All three options mentioned above work perfectly. You don't have to follow all of the options in order to find discounted apps. If an app has gone on sale, you will know about it even if you follow only one source.