Google is serious about smartphone photography and it is quite clear if you see the last few years. First, the company came out with the Snapseed app for Android and then Google Photos three years later in 2015. The company has never looked back since and the prowess of its image processing algorithms is out for anyone to see in its latest Pixel 2 devices. Google Photos provided a huge enough sample of everyday smartphone images users take. It may be what has helped Google understand how smartphone photography works. And that's now visible in Google's image processing algorithms on the Google Camera app on Pixel devices. As part of a new Google Appsperiments program, the company has now launched three new photography apps on the Play Store.
Google Interaction Researcher Alex Kauffmann took to the Google Research Blog to announce these new apps. These apps give Google an opportunity to test out experimental features and gauge user response from both Android and iOS users. One of the apps is available on both Android and iOS while each of the other two is exclusive to either Android or iOS. The appsperiments (apps + experiments.. get it? so creative!) program sounds a lot like the Microsoft Garage program which was the birthplace of Arrow Launcher, now known as Microsoft Launcher.
Storyboard
[googleplay url="https://play.google.com/store/apps/details?id=com.google.android.apps.photolab.storyboard"/]
The first app called Storyboard takes a video clip and uses artificial intelligence to transform it into a comic-style storyboard. This app is available only of Android, unfortunately for iOS users, this is also the most fun app out of the three. Being an experimental app there aren't a lot of settings for you to tinker around with. The app seems inspired by those artistic photo effects apps. Instead of turning a picture into a comic book style image though it takes a video and creates a comic book page out of it.
You launch the app, tap the LOAD VIDEO button right in the middle and then select a video. It takes a few seconds to load it up and pretty soon you'll have your comic strip. I tried it with one of Pro Evolution Soccer Replay videos and things were just a lot white. In case you don't like the results too, simply pull down on the screen and it'll make a new one. Refreshing gives you new layouts and frames. Google claims there are 1.6 trillion combinations to try.
Selfissimo
[googleplay url="https://play.google.com/store/apps/details?id=com.google.android.apps.photolab.selfissimo"/]
The name might not be very descriptive but you can clearly deduce it has something to do with selfies. The app recognizes when you're striking a pose and automatically takes a selfie. How does it know when you're posing? Well, it doesn't actually. It just takes a selfie when you stop moving which is when anyone would click for a picture. What's not so exciting is that it only takes black and white photos.. err.. selfies.  If you're into black and white selfies the app saves you the trouble of manually taking the pictures or asking your phone to "take a selfie."
The idea is to simply move around in different poses and let the app take selfies every time you stop moving. The end result is a contact sheet of photos like you have from a real photoshoot. You can save individual shots from this sheet, of course. Oh and the app keeps complimenting you throughout the "photo shoot" but it'd be wise to not take them too seriously. Compliments can be turned off with an easy toggle in the side drawer menu.
Scrubbies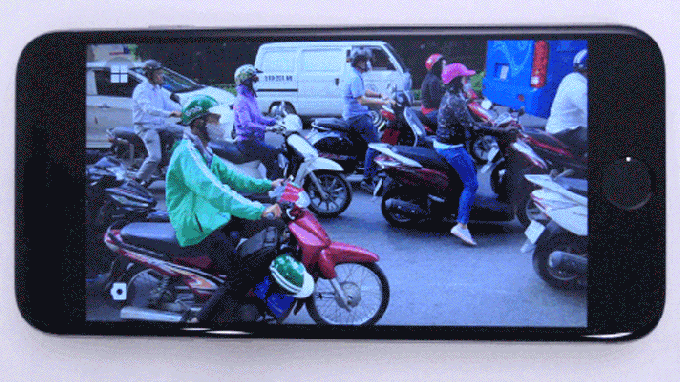 This is an iOS exclusive but that doesn't mean we can't know about it. Scrubbies basically lets you become a video DJ. Perhaps Google would call it a VJ. The app lets users scrub through a video in either direction at varying speeds and captures the action as they scrub. This one seems inspired by the looping videos that have been quite popular for a while now. But instead of looping videos automatically like other apps such as Boomerang from Instagram, Scrubbies has you go hands-on with it.
This isn't the first time Google has launched experimental photography apps. Google apparently has a habit of doing it. This is the first time though that they have chosen to name the initiative. Previously Google researchers had developed Motion Stills to make the iPhone Live Photos less shaky. A variation of the app was then brought to Android and then it finally made it into the newest versions of Google Photos app.
Read Next: Get Edge Lighting Border Around Screen on Any Android